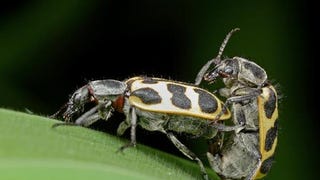 Really, would you spend your weekend any other way? Via the super talented and always awesome Alex Wild come these incredible photos of beetles in flagrante delicto.
One of the evolutionary consequences of sexual reproduction is that males have to compete with each other for females. But as a recent study published in Current Biology reveals, this competition doesn't necessarily stop after the mating is done. In the case of seed beetles, the presence of promiscuous females has…
When the Australian patent office granted a 2001 patent to Mr. John Keogh for inventing the wheel (an action for which they shared an Ig Nobel Prize), little acknowledgment was given to those animals who regularly reinvent themselves a wheels.