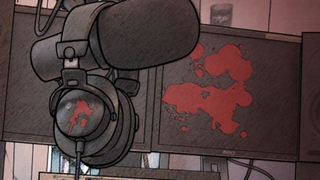 Do you like Dexter? Then you'll probably like Larime Taylor's A Voice in the Dark much, much more. It's the tale of a young college student named Zoey, whose desire to kill keeps getting stronger — but can hosting a radio show for people to share their darkest secrets keep her urges at bay? It's a wonderful…
Blossom, Bubbles, and Buttercup enter the world of Flaming Lips when they prepare to take down the pink robots. Courtney Bernard is just one of the artists putting cartoon characters (and Muppets) on classic album covers.
Last week's edition of the always stellar The Line It is Drawn art mashup series at Comics Should Be Good made the Fantastic Four as big as the Beatles. The brilliant fanartists took up the challenge of CSBG readers to place superheroes on album covers, casting the Teen Titans as Gorillaz, the various Robins as the…
We've seen robots play music before, but Drexel University's HUBO bots take things to an entirely different level. That's because these robots haven't actually been programmed to play Come Together — at least not specifically.
Zombies have taken over malls. They've taken over Jane Austin and Charles Dickens. And now they're coming for the Beatles in the upcoming book Paul Is Undead, which chronicles the rise and fall of an undead Fab Four.
The BBC is being tight-lipped about why two Doctor Who special edition DVDs, "Remembrance of the Daleks" and "The Complete Davros Collection," won't see a U.S. release. Earlier clearance issues with certain Beatles songs in the original shows were supposedly cleared up, but if you've been waiting on these for your…