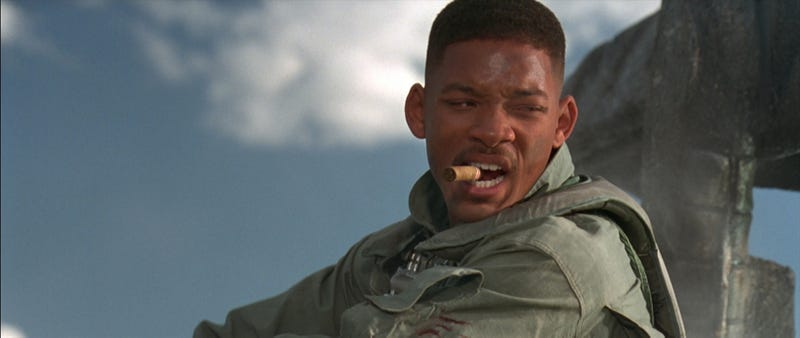 It sucks that Will Smith won't be in the Independence Day sequel—but wait 'til you hear the random explanation for his character being gone. Alas, this is standard practice. When stars decide not to come back, movies come up with rationales for writing them out, that go beyond "dog ate my homework."
I am usually a stickler for articulation in action figures — the more the merrier, except in one case: Michael Keaton's Batman must never turn his head. Thankfully Hot Toy's latest figure sticks to this rule, by replacing the usual neck articulation with... poseable eyeballs? Man, figures are weird.
John Bruno is a legend in the world of visual effects, having worked on the first Ghostbusters, Terminator 2: Judgment Day, Batman Returns and countless other films. And even though he helped pioneer computer-generated effects in T2 and The Abyss, he still believes practical effects are usually better. Here's why.
In Tim Burton's Batman Returns, the Penguin outfitted his feathered minions with rocket packs so they might bomb Gotham City. But in Tim Flattery's concept art for the film, the penguins were multi-talents, wearing not just rocket packs but also buzzsaws, grenades, and extending boxing gloves.
Michael Keaton tells the L.A. Times that he wasn't as happy with Batman Returns as with his first Batman movie. And then he had second thoughts about doing a third movie. Here's why:
James Bond saves the world sometimes. So does Captain Kirk. But at least in the movies, superheroes don't - they're too busy fighting personal spats. Here's why superheroes on the big screen should save the damn world now and then.
When you look at it this way, a progression becomes pretty obvious — in…
The Comics
Arguably, Burton's movie didn't influence the comics directly as much as give them even more reason to pursue the dark, Frank Miller route they were already taking (Although 1992's "Destroyer" storyline recreated Gotham City using Anton Furst's production designs for the architecture of the movie, probably…
Even before Tim Burton took the director's chair of Batman in 1986, the movie seemed troubled, if not just outright unlikely to ever happen. A Batman movie had been in development since 1980, following the success of Richard Donner's Superman The Movie and Superman II, with various writers - including comic writer…
Michelle Pfeiffer's slinky Catwoman costume from Batman Returns sold for $8,260, which sounds surprisingly small. Why would someone need this suit? Pfeiffer isn't in it. Seems like a terrible mistake waiting to happen. [ScifiWire]
The Incredible Hulk easily crushed the competition at the box office over the weekend, but you'll have to wait another week to see if it's a massive hit. The new Hulk movie took in $55.8 million, less than the $71 million (adjusted for inflation) that Ang Lee's Hulk took in in its opening weekend. The Lee Hulk left a…