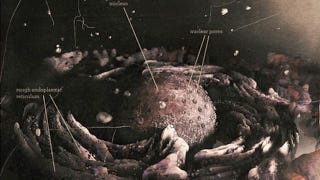 Artist MRK (Markos Kay) is best known for his mesmerizing digital videos like The Flow and the aDiatomea series. But he also creates striking static images inspired by cell biology, atomic structure, and his own digital creations.
We all know the story. Electrons and protons are attracted to each other. That's why a balloon rubbed on hair clings to clothes. The electrons it gained are crying out for protons and dragging the rest of the balloon along with them. But electrons and protons are right next to each other in the atom. Why don't they…
The Pauli exclusion principle is the quantum mechanical concept that no two identical particles in all the Universe may occupy the same quantum state simultaneously. What does that mean, exactly? Well, for starters, it means that the butterfly effect has nothing on the consequences of the Pauli exclusion principle.
If you're a fan of lucid explanations of tricky scientific concepts, it's hard to go wrong with theoretical physicist Brian Cox. But when you mix in physicist Jim Al-Khalili and Simon Pegg, you've got yourself a recipe for pedagogic gold. Also: thinly veiled sex jokes.