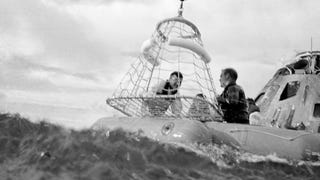 Apollo 13 is often called a "successful failure" because of the way NASA managed to turn the situation around and successfully bring the astronauts home. But just how did the failure happen in the first place? Through a perfect storm of incredibly unlikely, but aligned, events.
Humanity is never thrown into so stark relief as when we journey into space. In that alien environment, we find out who we are. And even though space movies are often seen as pure adventures, the best space films are great personal dramas. Here are 12 powerful psychological dramas that happen to be set in space.
Humans have landed on the moon six times, but conspiracy theorists still insist the actual number is zero. They cite bad science, misunderstandings of physics, and outright lies to try to convince you that American astronauts never set foot on our moon. Here's one more way to prove those wackos wrong.
Space epics almost always play fast and loose with science, treating the laws of physics like suggestions. But some movies dismember Newton and Einstein with way more gusto than others. Here's our report card for bad science in 18 movies.
By the way, we left out because there's so much of it, even if you just…
The folks of /dev/fort have taken the space logs from NASA missions and spruced them up digitally. If you've ever wanted to know what exactly happened on missions like Mercury 6, here's your chance.
Doctor Who is over and is taking a little break, but luckily British time-travel show hits our screens this weekend. In , scientists discover a rift in time in space that's letting prehistoric monsters rampage throughout the English countryside. Otherwise, it looks like we're in a slow period until the big fall…
Click to view Space epics almost always play fast and loose with science, treating the laws of physics like suggestions. Sound in space, unprotected bodies splatting in vacuum, and alien planets that all look just like Calabasas. But some movies dismember Newton and Einstein with way more gusto than others. We rated…