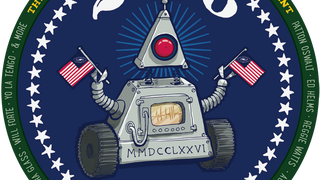 Everybody's buzzing about the new comedy album 2776, which is chock full of famous comedians and personalities, riffing about the future and science-fictional stuff. Almost everybody you love is on this album — but perhaps surprisingly, the clear standout is NPR's Nina Totenberg's a capella rock opera.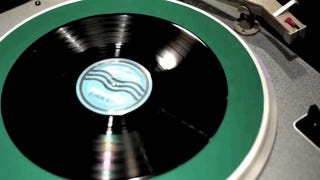 Former White Stripes frontman Jack White is going all out on his upcoming album. The vinyl version of Lazaretto contains a number of unprecedented features, including two different intros for the same song and the appearance of a holographic angel while it spins.
Blossom, Bubbles, and Buttercup enter the world of Flaming Lips when they prepare to take down the pink robots. Courtney Bernard is just one of the artists putting cartoon characters (and Muppets) on classic album covers.
Last week's edition of the always stellar The Line It is Drawn art mashup series at Comics Should Be Good made the Fantastic Four as big as the Beatles. The brilliant fanartists took up the challenge of CSBG readers to place superheroes on album covers, casting the Teen Titans as Gorillaz, the various Robins as the…
Yesterday, we took a journey into the unknown, with fantastic images that could have been science-fiction book covers or rock album covers. Today, the unbelievable truth is revealed!
Musicians have been inspired by science fiction for as long as the concept has been around. Composers have based entire operas around plots by Doris Lessing and Philip K. Dick. And, from the Beatles to Billy Idol, the Flaming Lips to Jefferson Starship, performers have drawn on ideas from sci-fi stories and even…