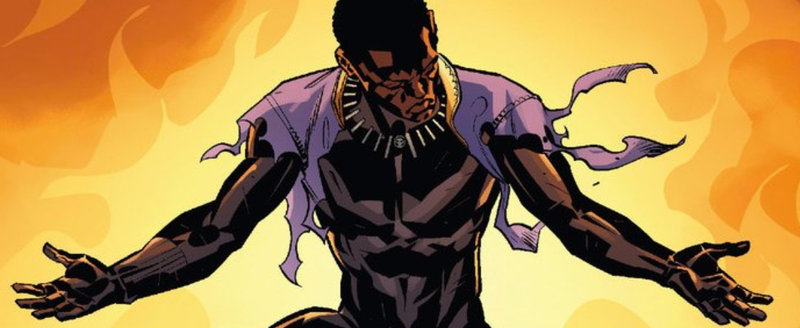 The King of Wakanda doesn't necessarily seem like a superhero in need of restorative treatment. In the Marvel Universe, he's the ruler of the most advanced nation on Earth, along with being a multi-disciplinary genius. But, in the newest Black Panther comics, both T'Challa and the nation he reigns over have internal problems that they need to address.

It's a weird thing when someone you've hung out with starts writing your favorite superhero character. I've known Ta-Nehisi Coates casually for the better part of a decade. Our contact over the years was mostly incidental, such as run-ins at book events or friends' birthday parties here and there. But we've reconnected ever since he started writing the Black Panther for Marvel, chatting regularly about our favorite past and present runs and what he's learning about the craft of comics-making from the inside. These conversations have made me recuse myself from writing anything evaluative about his work so far, but we've been talking privately about what I enjoy about his Panther run.
However, Black Panther #6 is out today and it's got a moment that I think deepens the aggregate personality of the title character, and warrants talking about publicly. The issue, written by Coates with art by Chris Sprouse, Karl Story, Laura Martin, and Joe Sabino, is the halfway point for the series' first season and finds the internal philosophical turmoil over whether Wakanda should be steered by sovereignty or democracy exploding into open-armed conflict. The series has had T'Challa working out his own sense of himself as he tries to rebuild a once-unconquered country, extrapolating on the vision of Wakanda advanced by Christopher Priest and Reginald Hudlin's tenures on Black Panther.
In the conversation that follows, Ta-Nehisi and I talk about what drives his approach to T'Challa and Wakanda, how the spiritual journey that Shuri is on will change T'Challa's sister, and his thoughts on a certain stripe of negative fan response.