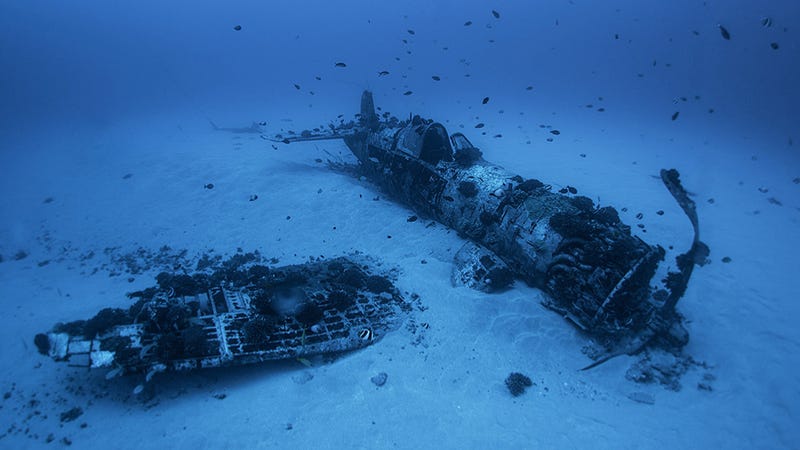 Beautiful, frightening, and uplifting all at once, "Happy End" is a photo series that highlights plane crashes with 100% survival rates.
Above: "Life is a Tide" – Happy End #8.1, USA, 2012 | The pilot swam to shore with favorable tides in 1947 and is still alive 65 years later
The collection is by German photographer Dietmar Eckell, and it's positively breathtaking. He spent over two years researching downed planes from around the world and documenting their stories, visiting four continents in the process. Writes Eckell on his Indiegogo page, where he's raising money to turn the series into a photobook:
'Happy End' is a photo-project about miracles in aviation history - 15 airplanes that had forced landings but ALL on board survived and were rescued from the remote locations. The planes remain abandoned in nowhere since 10-70 years. It's part of my long term project 'restwert' (german for residual value) to document abandoned objects with fascinating backgrounds like cold war relicts, olympic sites, flooded churches, railroad tracks, never finished nuclear reactors, overgrown adventure parks etc.
"The Scenic Route to Nowhere" – Happy End #3.1, Mexico, 2010 | Grunman Albatross, no official report as drug trafficking plane - locals say all survived
Eckell writes that "aviation miracles are rare." Not to detract from the impressiveness of these photos, but his claim is really only true if your conditions for an "aviation miracle" require more than everyone aboard living through a plane crash (though it's more than likely Eckell is operating under a different definition than we are – more on that below). The word "miracle," after all, implies infrequency, but it turns out surviving a plane crash is more common than most people realize: a recent survey by the National Transportation Safety Board found that 95.7% of people involved in commercial airline accidents between 1983 and 2000 survived.