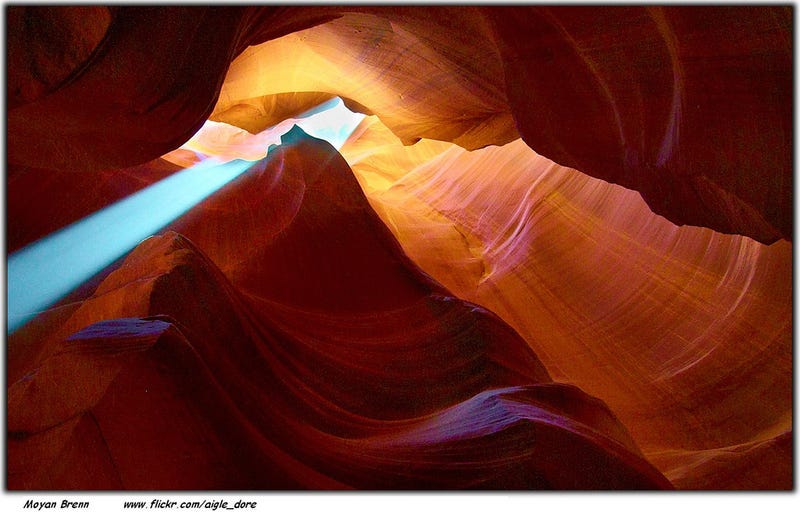 Sometimes the landscapes we dream up in works of science fiction and fantasy are no match for the real thing. From unusual geological formations to rare and beautiful flora, these natural landscapes seem pulled from another world.
Top photo of Antelope Canyon by Moyan Brenn.
Antelope Canyon
Photo by Frank Kovalchek.
Located in the Navajo Nation near Page, Arizona, Antelope Canyon is a slot canyon formed through the erosion of Navajo Sandstone, largely a result of flash flooding. It's the region's most-photographed slot canyon, not just because of the incredible colors and ridges, but also because of the shafts of light that travel in from the surface.
Photo by Frank Kovalchek.
Giant's Causeway
Photo by TS Drown.
It's almost hard to believe that the Giant's Causeway, Northern Ireland's only UNESCO World Heritage Site, isn't man-made. According to legend, the hexagonal columns were built by the mythical hero Finn McCool across the North Channel so that he could meet Scottish giant Benandonner in battle. In reality, the columns were caused by the rapid cooling of a lava plateau, causing the molten basalt to contract and crack into columns.
This was one of our favorite entries from the Sierra Club's list of "Earth's Weirdest Landscapes," which pointed us to some of the landscapes listed here.