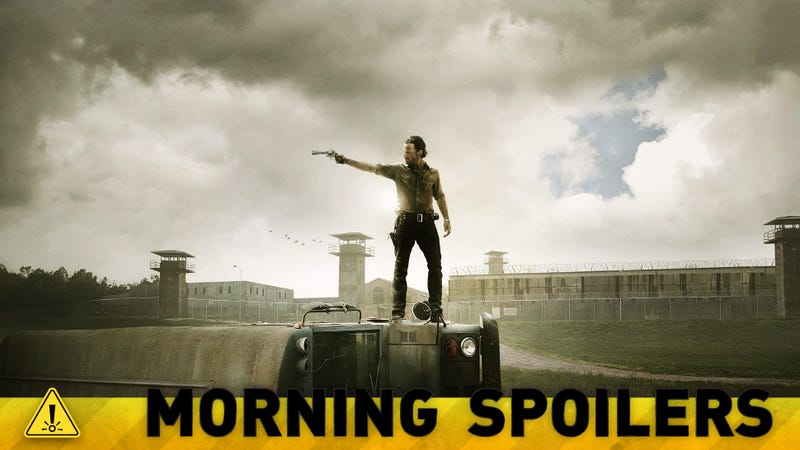 Damon Lindelof reveals the biggest story challenge of Star Trek Into Darkness, and the potential villains of Star Trek 3. Zoe Saldana gives an Avatar sequel update. A Doctor Who love interest joins Transformers 4. Plus Game of Thrones, Under the Dome, and Arrow! Spoilers ahoy!
Top image from The Walking Dead.
Star Trek Into Darkness
Co-writer Damon Lindelof explains why a major event in the first Star Trek meant the sequel could never unfold like the original series did, even on one of the most basic of levels:
The first question we were facing, just on a plot level, is can there be a five-year mission when Vulcan blew up? How did that attack — which is essentially a 9/11-like incident in Federation lore — change history? That should be the catalyst for everything that happens in the second movie, so that was the conversation that happened when we initially made the decision to destroy Vulcan, because it's a huge deal. The two key planets in the Federation are Vulcan and Earth, and now one of them is just gone, and it eradicated billions of lives, so we need to talk about that and understand what the ramifications are moving forward. Secondly, I think in the first series of meetings for the second movie, we knew what the first movie was, emotionally, and it was about these people getting to meet each other. It was a philosophical study of logic versus emotion, and ultimately landing on this idea that the two can't be separate. They need each other, and those ideas are represented by Kirk and Spock.
Here's a clip.
---
Star Trek 3
And looking further ahead, Damon Lindelof suggests the Klingons could well be the main enemy of the next Star Trek movie. Here's what he said, in response to a question about whether the team already has plans for the third film:
"I think that is a reasonable conclusion. You should always know where you've been, you should always know where you are, but most importantly, and I learned this from Lost, you should know where you're going... You can never see enough Klingons, and I think in this film we've given the audience a little taste, but there's also a promise that there's a larger conflict on the horizon, and that would be fun to see."
He also suggests that this new incarnation of the franchise could one day incorporate elements from The Next Generation:
You can't talk about Trek and not talk about the Borg, and certainly about Q. Very iconic adversaries from The Next Generation which is, outside of the original cast films, was my entry way into Star Trek, so I wouldn't mind getting – towards the end of our run on Star Trek, maybe baby Picard could be born. There has to be some sort of crossover we're not thinking of.
---
Star Wars: Episode VII
Bad Robot producer Bryan Burk says the movie will likely start filming in 2014:
We're progressing on a schedule to hopefully begin next year, or the beginning of next year, and the location is still kind of floating around in the air all depending on script and a whole bunch of other issues. As I just said, everything is kind of a free-flowing thing, and when we feel like the story level on this script and everything is really coming together and schedules are all working and pieces line up, we prowl ahead, and Star Wars will be no different.
[Collider]
So that's when the movie might start shooting, but what about where? Well, if you believe The Sun — which you probably shouldn't, but let's just roll with it — one filming location could be Scotland. The report quotes this supposed inside source, which might be bullshit, but what the hey:
"Location bosses feel Scotland possesses stunning scenery perfect for movie backdrops. They will look great on the big screen and the rock formations will replicate the perception of mountainous planets. It will be the first time Star Wars has ever been shot north of the border."
Early location scouting is certainly conceivable, but it should be pointed out that Michael Arndt's screenplay probably still isn't finished yet, so the story could still change to the extent that Scottish exteriors would no longer make sense... again, assuming the original report is credible in the first place. Still, the thought of filming a Star Wars film in an actual location is an appealing one indeed. [The Sun]
Mark Hamill once again effortlessly proved that Mark Hamill is the best with a recent appearance at the CapeTown Film Festival, in which he discussed his own hopes for the next trilogy:
"I've only had one creative meeting about the new films, but I do remember saying, 'We've got to find a proper balance between CGI and old school [FX]. That's what the challenge is, is to try and meet expectations of what you guys want. I think there's nothing wrong with CGI, but I think you have to have a balance, because the camera perceives the width and the depth and the weight – even if it's a miniature model, the camera just realizes that. So when you have too much CGI and the clouds are CGI and the trees are CGI and the buildings are CGI, you're getting to a point where the figure in the shot is like a hybrid of an animated film and live-action. And I want it to have an organic look so that we don't get into Roger Rabbit territory." He then added, with a laugh, "But I don't imagine that the priority is what I want!"
There's more general Mark Hamill awesomeness at the link, including a spirited defense of the prequels that might not be right, exactly, but is still eminently respectable. [IGN]
And screenwriter Simon Kinberg, whose previous credits include Sherlock Holmes: A Game of Shadows and X-Men: Days of Future Past and who is currently working on a standalone Star Wars script, discusses his approach to the material:
We're really at the early phases of figuring out the details, but the spirit of the original movie is the thing I fell in love with, so it's the spirit of that that I think will guide us.

Larry Kasdan said that what sets the original movies apart is that they're more about people than the films that followed. Do you plan to take this new film back in that direction?
Completely. I think what worked so well in all of the "Star Wars" movies is the characters. I think the reason that they're different than other science fiction or other genre movies is because George [Lucas] created a universe of people that you wanted to go back and see over and over again, and that's why it's spanned and spawned so many different mediums, so many different generations, every different language. You want to go back and see those characters, like I did when I was a kid. "Empire Strikes Back" was the first movie I saw in a movie theater more than once. And I went back 10, 15 times in the theater, and I've seen it probably over a 100 times since. But I saw it that many times in the theater because I loved those characters. I loved Han, I loved Leia, I loved Luke, I was right at the age when I was old enough to start to understand the nuance of that movie. I think I was too young for "New Hope" when it came out in the theater, although I loved it and it was my favorite film until "Empire." And then really, that changed my life, that movie.
---
Man of Steel
Here's a TV spot.
Also, for a bit of speculation that Krypton is destroyed after all, go here.
And here are some pictures from a children's book called Man of Steel: The Early Years, which show off more of Clark Kent's childhood, including the science fair he enters and the bullying he endures as a kid. Tons more here. [Comic Book Movie via Comic Book Resources]