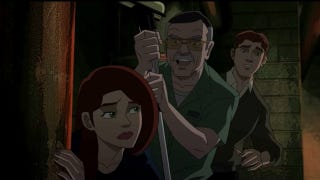 This week in the world of cartoons, Bender is robo-jacked on Futurama, Stan Lee voices a janitor on Ultimate Spider-Man, and we are treated to the spectacular Gravity Falls season finale.
TMNT is off this week, As always - minor spoilers ahead!
---
Beware the Batman – "Safe"
The League of Assassins debut on BtB this week. The cadre breaks up a Wayne Corporation press conference to steal the Ion Cortex, a possible answer to the world's energy problems.
Katana (who has a connection to the League of Assassins) and Alfred get a large piece of the action in this episode.
---
Futurama – "Assie Come Home"
Bender has all his robo-parts stolen while on a planet run by alien gang members (Blips vs. Cruds!), with Fry and Leela traveling to find his robotic ass.
For a full look at this week's episode, check out Esther's weekly Futurama recap.