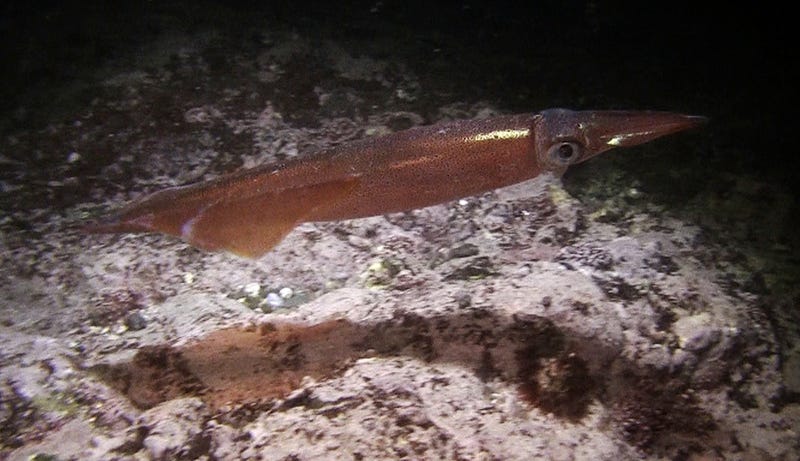 A number of species engage in swarming behavior, where countless individuals move en masse in some direction. But they're not the only ones. Scientists have now found that the sperm of some squid form swarms, and this peculiar behavior could help the cells to fertilize eggs.
Sexual dimorphism — where males and females of a species exhibit different traits — is widespread in the animal kingdom. For example, female widow spiders are much larger than their mates, and only male mallards sport the glossy green heads that the species is known for. It's way less common to see a single sex of a species shows strong dimorphic traits — but that's exactly what we see with the spear squid Loligo bleekeri.
In this species, which is also known as Bleeker's squid, males can either be large "consorts" or small "sneakers." And size isn't the only thing distinguishing the two classes of squid; they also go about mating differently. Consorts compete with other males and court females by flashing vibrant colors across their bodies. A successful male will place his spermatophore (sperm packet) into the female's oviduct, an internal tube leading to her ovaries. The male then earns his consort title, by guarding over his mate until she deposits her eggs.
A sneaker male won't waste time with complicated courtship rituals. Instead, he will rush headfirst at a mating pair and place his spermatophore near the female's external sperm storage organ, just under her mouth. When the female spawns, her eggs travel through her oviduct to a spot near her mouth. There, the sneaker's sperm can fertilize eggs that weren't already fertilized by consort sperm inside the oviduct (sneaky, right?).
A couple of years ago, researchers in Japan found that sneaker sperm are actually larger than the sperm of their bigger competition. They reasoned that the size difference in sperm might have to do with fertilization environments: Bigger sperm may just be better suited for the out-of-body, salt-water environment.