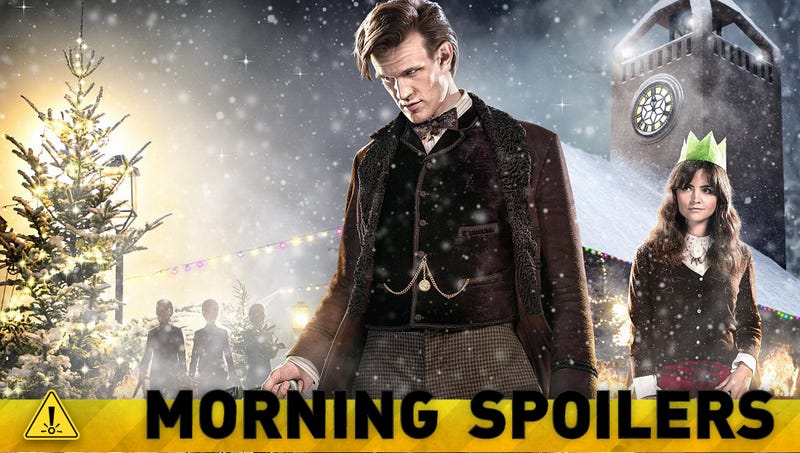 And that's not all on the sequel front. There are also insights into Avengers: Age of Ultron, Transformers 4 and Pirates of the Caribbean 5. Is Sony making a Last of Us movie? Plus tons of spoilers for Doctor Who, Godzilla, Game of Thrones and True Blood. Spoilers right now!
Avengers: Age of Ultron
Elizabeth Olsen continues to be adorably excited about playing the Scarlet Witch, saying:
She's nuts, she's crazy. She has more things wrong with her than any character I've ever played. She can tell you where an object has been, she can tell you what your future is, she can connect with the dead and people from other universes, and she's the only person in this universe who's capable of doing that. She's unbelievable; it's so cool. I grew up loving 'Star Wars' and 'Lord of the Rings,' and anything that has this other type of world or universe to it is so fun.
[Ain't It Cool via Coming Soon]
---
Godzilla
In the same interview, Olsen spoke about her role in Godzilla:
It's Aaron Taylor-Johnson's film, but the ensemble, we all are somehow connected to Aaron's character. He's the root, and I play his wife and I'm the person who holds down the San Francisco prospective of it all. I'm a nurse and I work trying take care of this chaos. 'Godzilla' is just so deserving of a good American remake, and I really hope we did it and I really feel like we did.
[Ain't It Cool via Coming Soon]
---
Hunger Games: Mockingjay
Lionsgate has released the official synopsis of the combined Mockingjay movies, which does describe the plot but doesn't tell us where the first movie will end and the second will begin:
In "Mockingjay Parts 1 & 2," we follow heroine Katniss Everdeen's journey as she leads the districts of Panem in a rebellion against the tyrannical and corrupt Capitol. As the war that will determine the fate of Panem escalates, Katniss must decipher for herself who she can trust and what needs to be done, with everything she cares for in the balance.
Filming is set to resume on Mockingjay pretty soon, and OLV has pictures of set construction in Georgia. In addition to green screens being put up, the major changes appear to be making the existing set look damaged, adding smoke marks and the like. Mockingjay the book has a number of battles in it, so this could be the aftermath of the hospital bombing in District 8, which they have filmed some of already, or even Katniss' return to a bombed-out District 12. See all the photos here. [OLV via The Hob]