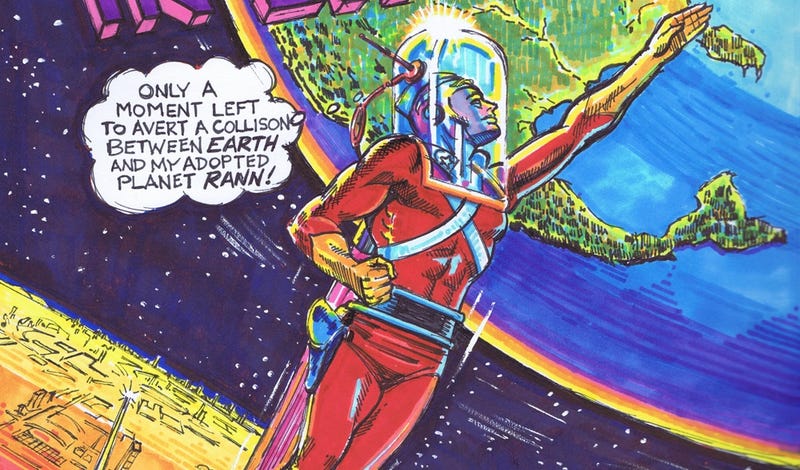 Between Guardians of the Galaxy and Star Wars: The Force Awakens, wild and frenetic space opera is making a comeback. But the genre contains plenty more amazing, largely untapped material. Here are 16 other space heroes who could rock their own movies.
Top image: Adam Strange, art by Carmine Infantino.
Flash Gordon
The archetypal space hero had a ludicrously goofy 1980 film version, which was pretty much stolen by the great Brian Blessed. And there was a dull-as-dishwater SciFi Channel series in 2007. But a few years ago, BreckEisner (director of the underrated The Crazies) was attached to direct a somewhat more serious Flash Gordon film, which went through a couple different writers before fizzling. But maybe the success of Guardians and Force Awakens will make Universal say,"Gordon's alive!"
Lensmen
In the Guardians of the Galaxy, we met the spacefaring Nova Corps.,who are Marvel's answer to the Green Lantern Corps. — who, in turn, are DCComics' version of the Lensmen. Written by E.E. "Doc" Smith, this is a vast story of the Arisians, an ancient race, who create a group of human champions, armed with the "lens," to fight an invasion by the evil and megalomaniacal Eddorians. Leave out the eugenics program and the sexism,and you've got a great saga.
Adam Strange
Sure, DC already got burned with Green Lantern — but there's no reason they couldn't try again with some of their other classic space heroes. First and foremost, there's Adam Strange, who gets zapped by a Zeta Beam that teleports him to the planet Rann, where he flies around defeating alien threats to the Rannians. What's great about Adam Strange is that he keeps getting zapped back to Earth, so you can show him being connected to an ordinary life on Earth when he's not being whisked away to a strange planet.
Legion of Super Heroes
And if DC starts feeling even more adventurous, a Legion of Super Heroes movie could be amazing. This is a bit more of a long shot, but it could be fantastic. It's the 30th century, and superheroes from a ton of planets join up in a big clubhouse to fight huge cosmic threats and have ill-advised hookups, while wearing brightly colored spandex uniforms. And they all get rings that allow them to fly. The intense, brooding Brainiac-5 could totally steal this movie. And imagine if they wereable to pull off the powerful, insane GreatDarkness Saga from the comics.
L.E.G.I.O.N.
Or suppose you don't want to have a space action franchise that takes place in the distant future? There's also the Licensed Extra GovernmentalInterstellar Operatives Network (or L.E.G.I.O.N., which exists in the present day and consists of another Brainiac version, Vril Dox, gathering a team of rogues and nutcases to protect the galaxy against huge universe-shattering threats like Eclipso. Somewhat less upbeat and massive than the Legion of SuperHeroes, you could see them spawning a fun movie about in-fighting misfits whowork together when the chips are down.
Lobo
And then there's Lobo, the motorcycle-riding bounty hunter who's the last of his kind and loves dolphins. He's basically Riddick with worse hygiene and a higher body count. And he definitely has the "bizarre outlaw" thing going on that the Guardians are working. There have been rumors of a Lobo movie for a decade, but it never seems to happen. Lobo is actually a member of L.E.G.I.O.N. on occasion, so you could see him being spun out of a L.E.G.I.O.N. movie, or crossing into one.
Starjammers
Suppose Fox decides it wants to get in on this sweet space superhero action after Guardians comes out? Luckily, Fox owns the rights to Starjammers, a Marvel comic that spun out of X-Men. And the Starjammers are basically like the Guardians of the Galaxy, if they were space pirates. There's a big white furry guy whom nobody understands (sort of like Chewbacca), a cat woman, a lizard guy, and Marvel Girl.