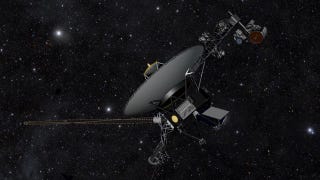 A re-interpretation of Voyager 1 data is refuelling the debate over whether the spacecraft has truly left the cozy confines of our solar system. According to a new University of Maryland study, it exited the heliosphere last year. The confusion, say the researchers, stems from NASA's failure to account for a particular magnetic phenomenon.
So is it in, or is it out? That's the question that's been plaguing scientists for well over a year now. Last year, the intrepid spacecraft entered into the so-called magnetic highway, a strong indication that it had finally reached the outer fringes of the solar system.
The region of space that's it's currently in — or thought to be in — has been dubbed the heliospheric depletion region. Voyager 1 crossed in and out of this boundary five times last year, revealing that the boundary separating the solar system from outer space is not uniform, but is instead rippled and turbulent.