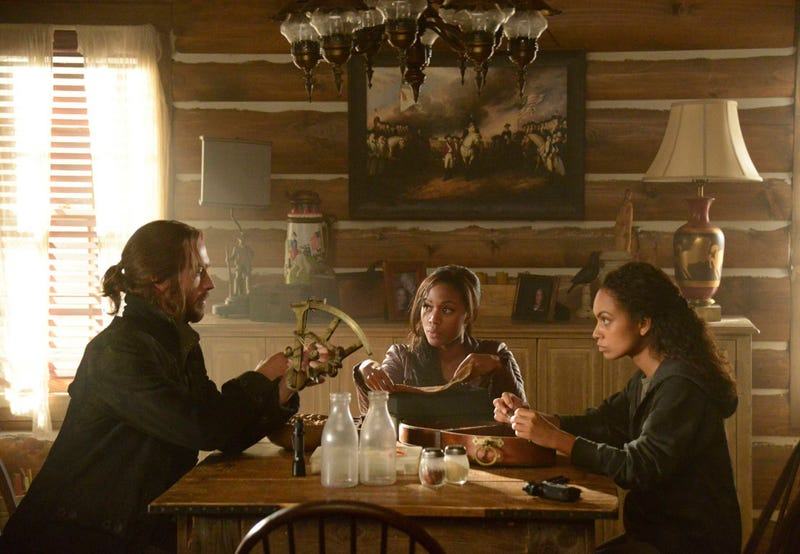 This week, Sleepy Hollow got a Viewer Discretion Advised: big talk for a show with exploding sand eyeballs. But besides some modern-dance goop full of demons, "The Lesser Key of Solomon" barely had time for monsters, because it was too busy with sisterly love, a cult, and a car-assistance request for the ages.
Ichabod's biggest solo moment this week comes from "NorthStar" and occurs early, but not until after the symbolically-important Weekly Previously and the Setup Previously we're still getting. (Listen, show, people will either give the premise to you or they won't; at some point you have to let go.) Not content with that, we also get half a Ye Olde Previouslie Onne about some reenactors and a Hessian who's translated into Copperplate Gothic.
The reminiscence is derailed by Ichabod talking sap about Katrina...to himself.We're far enough in this season to know it's viable he'd be left in the car like a spaniel, murmuring about "The bravest love is born again with each new day." But he's not alone; Northstar has unlocked the door (Abbie has wisely not included that Post-It in his daily routine), and when she sympathizes with his loss, he reassures her that she shouldn't accept anything less than "certainty in matters of the heart", and shrugs off her thanks: "It is I who should thank you, kind woman, for unlocking this vehicle from afar, and showing me how the entertainment system operates. Farewell, Yolanda."
It's quick and it's light, but it's good; Ichabod's confusion with the modern world continues largely on his own time, Tom Mison nails the delivery, and his gallantry here stands out against the instacomfortable sniping he has with Abbie whenever he can stop staring at her. But one of the reasons this moment stands out is because we find out his NorthStar chat picks up instantly where last week left off, pointing the rest of this episode firmly and swiftly at the Mills sisters.
Here's the thing, though, and I want to talk about it early because it doesn't get much breathing room after this. Sure, Jenny's a graduate of the Sarah Connor Academy with the courage of her convictions, and that's fine. But Abbie was nearly killed by a guilt-monster last week, and she's called out for her 'failing' this week, and while Nicole Beharie knocks it out of the park, it's predicated on the idea she has something to be guilty for, and I flat don't think she does. They were kids in a ruthless system, they'd seen something that defied explanation, and she told Jenny to keep quiet. Jenny has the courage of her convictions that has gotten her absolutely nowhere; Abbie was using survival techniques back in that interrogation room before it ever occurred to Jenny, and kept surviving, and I don't see that as something she has to apologize this much for. The fallout from this could feasibly underpin their dynamic for the rest of the season, except that now this show's speed is working against it, and everything is settled by the end of this episode in Jenny's favor, and I'm just going to call shenanigans about that now.
Much like with the Previouslies, which are half fanservice shots of Abbie and Ichabod being different heights and half "No, Washington's Bible said so, it's cool, hey where are you going," it's becoming clearer that while this show has a lot of confidence, there are clearly things it still doesn't think you'll take on faith. This concern leaches the payoff from a lot of Abbie and Jenny's struggles this episode, which is too bad, since they're on form with the hilariously cheeseball cult activity and the blithe introduction of yet another cadre of otherworldly monsters that could theoretically carry everybody to the end of Season 6.
But this week's demon barely appears; our real conduits of evil are human.
...Starting with this guy, who gets a phone call from Cult, Inc, in the middle of conducting the world's most sinister piano lesson:
Etude for a Creeped-Out Boy, in D Minor.
Lesson's over, anyway: Agent 37 has been located, which means it's time for a bunch of vaguely-German cultists to kill a bartender and track down Jenny.
Abbie, of course, is doing the same thing, having gotten her weekly dispensation from Captain Irving of the We're Not Sure Exactly What Branches of Law Enforcement We Represent Department to get a shot at a quiet investigation before calling in the federal marshals. (Reminder: Jenny's biggest offense was breaking into a store and stealing some things.) Irving, who will spend this episode entering rooms filled with creepy stuff and making priceless faces, doesn't have time to even worry about it.
Abbie's first law-enforcement tactic is handling phone calls the way I dreamed of handling phone calls when I worked a desk.
"This is the Sleepy Hollow Sheriff's Department, please rot in hell, have a great afternoon!"
Ichabod puts on Romantic Lead Face and asks about her childhood circumstances. Their father split, their mother had a breakdown and went into an institution (welp, we can guess why that is, see you in the season finale probably, Mom), and Abbie stayed in an apparently-decent foster home while Jenny got shunted into worse and worse places before dropping off the map. Things have really never been great for the Mills sisters; no wonder Abbie feels most comfortable with Ichabod the outsider. Guess who else thought of that.