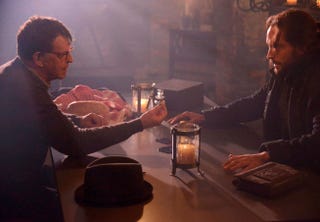 You're probably familiar by now with the madcap trope-deployment rate of the magic-cop show Sleepy Hollow. Turns out if you leave the show unattended for three weeks, those tropes back up — and when you turn the TV back on, it's a cross-dimensional guest-star-heavy hyper-flashback Masonic suicide pact with sin-eater assist.
("You're welcome." - Sleepy Hollow)
Spoilers ahead...
"The Sin Eater" marks the halfway point in Sleepy Hollow's first season, and after a very long pause by TV Land standards, the Horseman is poised to return — and Ichabod's connection to him offers the unique opportunity to vanquish him and prevent the Four Horsemen from ever teaming up again. All Ichabod has to do is die, and the Horseman will be gone. But for all that the Masons have been planning and all the evils that make a compelling case for Ichabod to give up his life for the greater good, nobody has counted on Abbie.
Coming only six episodes into the series run, this is obviously not going to be the end of anybody, but it's an interesting marker in terms of how far the show has already brought us into both the actual investment in their relationship, how many visions/flashbacks we will sit through per episode, and how much supernatural hilarity we are willing to believe. All numbers are surprisingly high! (Also this show is so into that first thing that they give us something that looks, I kid you not, like a wedding; we'll get there.)
We open with a reminder that Abbie and Ichabod are getting along great these days, as they take in a baseball game and she teaches him to heckle. It reads, in a good way, like some of X-Files quiet-moment tomfoolery, or alternately, like a '90s sitcom about two reluctant little-league coaches who have to learn to work together for the good of the team, and eventually find love.
After giving her the Full Mulder look-over, Ichabod heads out for a walk alone in the middle of the afternoon, and gets ambushed at Katrina's grave because for a vigilant soldier of the underworld, he is a pretty oblivious dude.
Abbie gets word of this thanks to Katrina, who reaches out to her from the Great Beyond with a vision (ding!) to warn her of Ichabod's abduction by giving her a lengthy vision while she's driving down the road in the middle of the night; she's fine at the end of it, but it seems like some dicey timing considering Katrina must have had hours to put this together.
Katrina Crane will do anything for love, but she won't do that.
(Abbie, who is very good generally at dealing with the supernatural, wanders through this house and peers into the creepy baby carriage like the heroine in a horror movie, and frankly deserves the creepy doll she finds, because she knows better.)
Back on the other side, Abbie takes Katrina's advice of finding a sin eater to Irving so he'll write up a temporary release for her sister for help with the investigation.
Irving, who is as usual about 150% done with anything this team tells him ever, points out that you should hold on to virginity and skepticism as long as possible (uh, okay?), and he's still very suspicious about all this.
I bet, sir.
Meanwhile, Ichabod Crane wakes up in the custody of magnificently game James Frain, and when they try to feed him a line of mystery, promptly Holmeses that he's in the presence of his brothers the Freemasons.
Apparently he's here to prove his identity to James Frain, who needs to make sure before they proceed that he is who he says he is: "We've been fooled before." Hold up instantly, I am going to need an additional clip episode of James Frain and his forefathers sitting down to interview dudes in frock coats who insisted they were Ichabod Crane just for funsies — because that seems like something we need to talk about.
Instead, we get a flashback (ding!) to young snot Ichabod working for the Crown by beating up treasonous pamphlet-writers on behalf of sassmaster Craig Parker; this torture victim, Arthur Bernard, is a freed slave, a dynamic that will probably not be handled poorly later. Katrina, a Quaker nurse who forgot to put her dress on again, comes to plead for leniency and try to seem like a morally-upright spitfire that will catch Ichabod's eye. It doesn't work.
She does manage to find her dress in time to be Freelance Child-Comforter at this public hanging, though, which is handy.
And turns out Ichabod hits his limit for royalist nonsense at this hanging, when his commander executes three men for treason to make an example of them, except he covers their heads so you don't see any of the really gruesome stuff, because that would be rude, and Ichabod wonders if perhaps that's the best way to charm the colonists into obeying you. (Also, his commander's name is Tarleton. DING. This isn't the sass-off I wanted, show, but I guess it's the sass-off I need right now.)