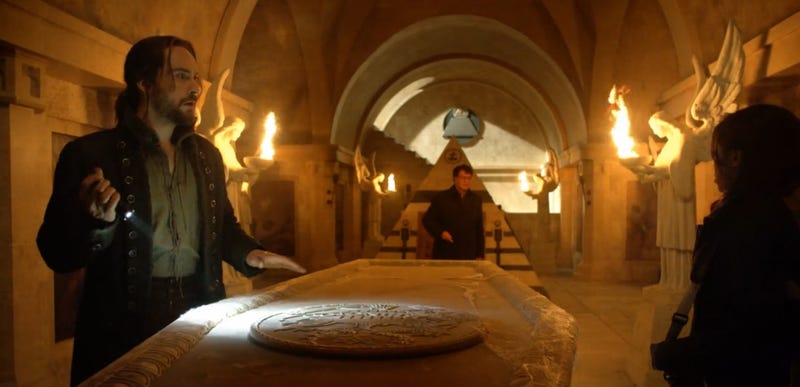 In a double-feature finale, Sleepy Hollow pulled out all the stops: big reunions, big plotcakes, big trouble, big reveals, big cliffhangers, zombie George Washington, and Victor Garber literally eating the scenery. What more can you ask for? (Nothing, there's literally nothing left.)
Oh, Sleepy Hollow. The thirteen-hour B-movie that could has spent the season hurling every horror reference, fantasy stopgap, Masonic handwave, time-travel joke, and monster-flick trope it found. The finale goes for broke (which is saying something), screeching to a cliffhanger you just know everyone in the writers' room cackled about, and leaves all the principal actors worried about their renewal clauses.
And wow, was this finale a trip. Its first half was the most National Treasure the show's ever skewed, complete with an enormous tomb for George Washington (who's dead in there despite taking a brief holiday from being dead so he could return as a zombie and draft a map to Purgatory, because of course), and a faceoff with Andy "Friendzone" Brooks during an escape from the alternate entrance from a thematic hidden tomb with its own rolling track whose vestibule contains a secret exit protocol, which is just about how I always imagined Masons spend their free time and extra money!
The second episode scoops everything the show's been heading for into a blender and adds some new things, leading to a final confrontation that feels slightly like a food fight, except instead of a shoulderful of macaroni everybody's miserable for eight months. ("Tune in next fall or else!" - Sleepy Hollow.)
Is it two hours of plotcakes? You bet. But it has its moments, and some great character beats. This show has always prioritized character continuity over plot continuity, and so that's how we're going to break this thing down.
ANDY
The first returning face: Andy, the kind of guy who in life will offer to watch your house while you're on vacation and copy your keys, and who in death will repeatedly show up and offer to save you by making you his plus-one in hell.
Abbie's actual line: "We need to talk about boundaries."
The rest of the conversation is conducted with Andy chained to a radiator, because Abbie did not get to the season finale just to take chances with her personal creeper. Andy begs for Washington's Bible, because it leads to a map (of course) that leads to the gateway between our world and Purgatory.
Shockingly, she's not into it, and back in the tunnels he's so angry that he begs (with a darkly comic shriek of "Take me seriously!") to be turned into an instrument of Moloch's glory.
It's probably a tactical error.
So, in a show where there's not a lot of moral gray area (even this episode glosses over some things it shouldn't, but we'll get there), Andy's been the most conflicted character. His obsession with Abbie is refreshingly framed as Not Okay, but for a foregone conclusion of a guy he's often helped Abbie at cost to himself. And though he's a go-between, there's a sense of him struggling against his bonds that's even, slowly, made him sympathetic.
It helps that Nicole Beharie and John Cho have given them the sense of long acquaintance, a shared history that goes deeper than Andy's creeping. Abbie's never been truly afraid of Andy; she was wary of him and took him seriously when he said he couldn't be trusted, but the most afraid of him she's ever been is when he desperately claims Ichabod's going to abandon her like her parents did – a shadow of the confidences she'd shared with him. It's first time she reacts as if he's really betrayed her.
When he confronts them in Washington's Tomb in his newly gooey form, it's the first time he's attacked Abbie since the pilot, when he knocked her out to keep her out of the fray. And as soon as he's momentarily himself, he begs Abbie to kill him already.
He shows up later in her vision in Purgatory, and it's striking: Corbin would have been more than enough draw for her, but Andy's surrogate-brother mode is clearly something else she's missed. They were friends, once; his descent has been one of the show's most quietly tragic arcs.
I don't know how demon death works on Sleepy Hollow, but I suspect nothing but low ratings is going to kill John Cho. And that's just as well; the show could use more gray areas. Maybe we can just cut down a little on his hilariously escalating suffering.
THE IRVINGS
Speaking of suffering, the Irvings had a pretty shitty day!
The good news is, in the wake of Macey's demonic possession, the Irvings are once again a cohesive unit. The bad news is, Sleepy Hollow is the one fictional township ever to demand real-life answers for supernatural shenanigans; they're out to discover who killed Father Doomed and Agent Blandy, and Irving doesn't have any explanations to give. (Morales is no help, given that his fate is aggressively kept in the dark, perhaps awaiting analysis of his Tumblr popularity.)
Irving confounded my early suspicions and became a moustachioed do-gooder when the chips were down; instead, his burden has been handling the mundane consequences of supernatural warfare. If he'd never confronted the Horseman, this arc could have been him out to imprison Ichabod and Abbie for some of the carnage that's happened on their watch, but now he's a believer, and it's given him nothing but trouble.
Before they can test the DNA swab they took from Macey (without a warrant, apparently – thanks, Sleepy Hollow Commissioner of Jackassery), Irving confesses.
That's a season wrap on Orlando Jones.
Even though this sidelined Irving at a crucial time, at least he wasn't caught in this crossfire, which will be handy for next season. And in fairness, it really would be hard to explain why you went to a cabin with guards and a priest to avoid a threat on your life and came back with two corpses and no alibi, and I respect that we're going to be wrestling with that for a little while next season. (Knowing this show's pace, "A little while" will be "Ten minutes until he extricates himself or Jenny busts him out.")
JENNY
I mean, if Jenny's still alive. (Of course she's still alive, don't even think otherwise, if you read that sentence and thought otherwise you're a monster.)
Jenny's arc has been revealing the sweetheart beneath the badass. She's still happy to show up at the scene of even minor conflict toting eight guns, but she's actually slowly become the softer of the Mills sisters: cooking Thanksgiving dinner, terrified at any urge she might have had to ever want to hurt her sister. Knowing she's not a Witness could have slotted her into the resentment of second-best, but instead she's become a necessary voice: "You're talking to the girl who spent a decade in Tarrytown Psychiatric for telling the truth" about Irving's chance at justice was a truth bomb perfectly delivered, topped only by her aside to Abbie's concern about having burned the only map to Purgatory: "Wait for it."
And in these last few episodes, she's become Abbie's personal-Hell-No advocate when Abbie's too focused on the bottom line to advocate Hell No for herself. This episode that comes up double, as Jenny pulls Abbie aside to check that she's not marching into Purgatory just because Ichabod's asking; Jenny puts more weight in the prophecy than either of them (smart!), and thinks it's a lot easier not to get your soul stuck in Purgatory if you're not there to start with.
Another thing Jenny loves now: going in for a hug without fear of rejection.
To prove her point, she brings up that dollhouse they had when they were little (you remember that dollhouse, it's that one they never mentioned before), the place Abbie promised her they'd always be safe, which is an adorable yet oddly specific thing to bring up just before a seemingly unrelated adventure.
Wow, someone's childhood memories are on POINT this episode.
Wading through archival tapes, she's the first one to discover the importance of the abandoned church, where she also finds the clue Henry Parrish is a big old liar, which is great, except for this dude:
Fun fact: I was so busy with everything else that was happening that this guy hadn't occurred to me for an hour, and when he showed up I said out loud, "Oh, right, hi!" like I'd forgotten a brunch date and not the headless guy.
It doesn't look great. But luckily for Jenny, Sleepy Hollow is also the one fictional township to sell cars that don't instantly explode on impact, so as soon as she wakes up from what had better be a flesh wound, she'll be right back on track and the Horseman is probably going to regret fucking with her. (The last time he messed with a Mills she trapped him in a Masonic cell, you think he'd have learned by now to steer clear.)
KATRINA
On the other hand, maybe he just had other things on his mind, since he was on his way to pick up his Cracker Jack prize.
After a season of narrative water-treading and sub-par flashbacks surrounding declarations of love that made Katrina sound like an object even to Ichabod, and hoping Katrina would at any point manifest an active role in the series and sidestep being the damsel, here's what happens:
- Abbie and Ichabod storm into Purgatory to get her to prevent the rising of the second Horseman, who I thought we'd already seen in Ye Old Roanoke, but apparently we're all collectively pretending that episode didn't exist.
- After two tries, she divines the way to the Four White Trees:
"Northeast." Or southwest! It's a stick with no defining end! You're honestly terrible at this! Why does this show hate you!
- She gets captured by Henry, knocked out, and given over to the Horseman, who bros up on his horse just in time to grab her and go.
Good luck next season, Katrina. You'll need it.
HENRY
The person who hands Katrina over to the Horseman? Her son, Henry! OR SHOULD I SAY JEREMY. *crack of thunder *
Yup. Sin-eating Henry Parrish is actually the Horseman of War, appointed by Moloch thirteen years ago. God apparently sent Abbie to stop it, but since she was like fourteen years old and God had not bothered to explain anything, it was not a triumph, shall we say. In fact, nothing about the roles or powers of Witnesses has been explained, if you think about it, which this show is hoping you don't. Did it mention Henry's actually Jeremy?
Looking back, there are clues, many of them stirred into trope soup (his talk about crossword deflections), and many hilariously overwrought in retrospect: remember when he talked about his dad supporting him when his powers manifested? HIS REAL DAD, ICHABOD, OKAY?