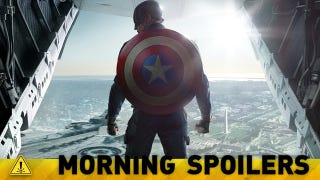 Meet a major character in Doctor Who season 8. See what's happening in the first four episodes of Orphan Black season 2. Manu Bennett talks about Slade's family on Arrow. There's some important Flash costume news. Plus, two feautrettes from Captain America 2. Spoilers now!
Captain America
Sources tell The Hollywood Reporter that Marvel's already got a release date for Captain America 3: May 6, 2016. That's also the currently scheduled release date for Batman Vs. Superman, making May 6, 2016 a literal Marvel/DC film showdown. Marvel and Disney also have an untitled movie scheduled for July 8, 2016, so there's always a chance they could shift Captain America 3 there. In fact, it's unlikely that one of the studios won't back down and move something — but Kevin Feige has recently indicated that Marvel won't budge. Looks like the ball's in Warner Brothers' court now. [Hollywood Reporter via Slashfilm]
And here are a pair of featurettes. One, via Movie Trailer Updates, is about Falcon. The other is about Black Widow. [via Slashfilm]
---
Zero Theorem
If you're wondering what the reaction is so far to Terry Gilliam's latest movie, the answer is "Mixed." Total Film's and Empire's reviews were generally positive, but Variety described it as "A sci-fi confection that, at best, momentarily recalls the dystopian whimsy of the director's best-loved effort, "Brazil," but ends up dissolving into a muddle of unfunny jokes and half-baked ideas, all served up with that painful, herky-jerky Gilliam rhythm."
Coming in the middle were The Guardian and Contact Music, which both gave it three stars. See more of the reviews rounded up at the link. [Contact Music]
---
Through the Looking Glass
Helena Bonham Carter, who played the Red Queen in 2010's Alice In Wonderland, joins Johnny Depp and Mia Wasikowska on the list of actors returning for the sequel. [Variety via Slashfilm]
---
Orphan Black
Here are the episode descriptions for the first four episodes of season 2:
Episode 1: 'Nature Under Constraint and Vexed'

Saturday, April 19
In the season premiere, Sarah is out of options, on the run, and pursued by deadly adversaries. Desperate to find her daughter Kira, Sarah suspects ruthless pro-clone Rachel is behind her daughter's disappearance and sparks an all out war against her. Alison and Donnie attend the funeral of her fallen friend, Aynsley, causing Alison to sink into guilt and despair. Cosima is faced with a perplexing decision that may have dire consequences.

Episode 2: 'Governed By Sound Reason and True Religion'

Saturday, April 26

While Alison struggles with Aynsley's death and Cosima grapples with the worsening symptoms of her mysterious sickness, Sarah enlists Art's help to find Kira and is shocked when she learns where the trail leads.

Episode 3: 'Mingling Its Own Nature With It'

Saturday, May 3

After hitting the road with Felix, Sarah is forced to turn to a ghost from her past — an old flame named Cal Morison. When their brief respite is brutally shattered, Sarah realizes that no matter how far she runs, it will never be far enough.

Episode 4: 'Governed as It Were by Chance'
Saturday, May 10

Sarah comes home to look for answers. With Cosima's help, she digs into the origins of the clone experiment. The hunt takes her right into the belly of the beast, but getting out again could cost her more than she knows.
The reference to Cal as an "Old Flame" lends more fuel to the "Cal is Kira's father" speculation. [Zap2It]