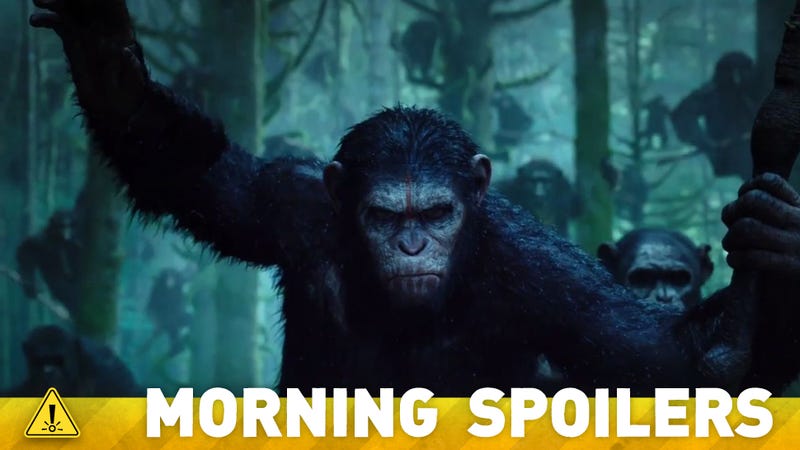 Michael B. Jordan says he's not signed for Fantastic Four. Travolta wants to be a Bond villain. Does LEGO reveal a key Guardians of the Galaxy scene? Lifetime's picked up a series from the Children of Men writer. The original Flash joins the CW's Flash show. Sansa's becoming a "powerhouse" on Game of Thrones. Spoilers now!
Top image: Dawn of the Planet of the Apes.
James Bond
John Travolta wants to play a Bond villain in order to finish off his baddie resume. He's already talked to producer Barbara Broccoli, and she's apparently in favor of it. However, it wouldn't be for the next film, which'll keep both star Daniel Craig and director Sam Mendes, but the one after that – Bond 25. Apparently, Broccoli's already figured out the villain for this next film. [Metro]
---
Fantastic Four
Most media outlets have been assuming that Michael B. Jordan's a done deal to play Johnny Storm in the reboot. On the other hand, the actor himself seems to be indicating that it's not set in stone yet:
I can't even — you know how it is in the industry! I can't talk [about it] — it's still up in the air. I just can't. It's one of things where, certain people start talking too soon and then what if it doesn't happen for whatever reason? Then I'm the guy who was out there talking about something that coulda, shoulda, woulda, but didn't.
As to the controversy about casting an African-American, Jordan told Access Hollywood:
It's not just about that role — I think times are changing. It's 2014. Comic books in general were established when we didn't have civil rights, for the most part. So there weren't a lot of comic book characters who were geared towards us, period. We weren't the market that comic books were made for in the beginning. But as times change and things move on, I think us as a people need to evolve as well in our thinking and not be so narrow-minded. So, if not me, if not this project, [if it's] someone else in another character, I wouldn't be mad at that at all.
---
Amazing Spider-Man 2
Click here for a bunch new official photos from the movie's official website, via Comic Book Movie.