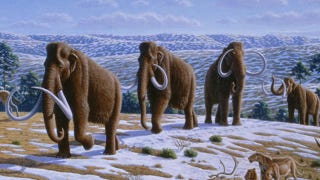 An exquisitely preserved wooly mammoth is currently undergoing an autopsy in Siberia. Some experts believe they'll be able to extract high quality DNA and cells from the remains which could conceivably be used to clone the extinct mammal. The question now is, should we?
Back in May of last year, Russian scientists discovered the remains of the mammoth partially embedded in a chunk of ice at an excavation site on Lyakhovsky Island, the southernmost group of the New Siberian Islands in the Arctic seas of northeastern Russia.
The samples were so amazingly well-preserved that fresh flowing blood was found within muscle tissue. Now, some 10 months later, an international team of biologists are conducting a thorough autopsy in Yakutsk, capital of the Sakha Republic (also called Yakutia). The team is comprised of scientists from Russia, the UK, the USA, Denmark, South Korea, and Moldova.