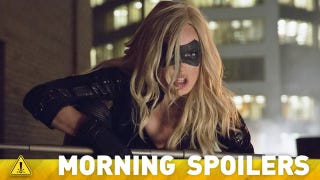 Batman Vs. Superman's new Batsuit is almost perfected, while there's a hint about The Flash's TV costume. A super-secret guest-star is rumored to be joining Matt Smith in his final moments as the Doctor. And is Age of Ultron adding yet another villain to its lineup? Spoilers now!
Avengers: Age of Ultron
Rumor has it this sequel's searching for a "physically imposing man, age range 40-50, Caucasian" — and there's some reports this could be the character of Baron von Strucker, one of the main leaders of HYDRA. Supposedly, Strucker would be a supporting role in Age of Ultron, but this would still mean the film's adding another villain to the one mentioned in the title. If this movie also keeps the Marvel thread of having Thanos as the hidden Big Bad, that means the Avengers would be looking at a lot of villains.
Latino Review says the HYDRA leader part is the boss of Quicksilver and Scarlet Witch, and that that the studio's looking at Marton Csokas and Dougray Scott for the part of Strucker. As usual, until confirmation, take this rumor with a grain of salt. [Latino Review]
---
Interstellar
According to Matthew McConaughey, who refuses to actually talk about the plot, the story is "very personal" to Christopher Nolan, as it combines one of his original ideas and an existing script by his brother, Jonathan. McConaughey also described a bit of his experience during filming:
He sure as [heck] knows what he wants. There's scope, major scope, which means a lot of things have to be coordinated. But at the same time, when you're shooting it moves incredibly quickly.
---
Starship Troopers
Some tweets from Zack Stentz over the weekend reveal that a script for the new Starship Troopers adaptation is in the hands of the studio right now. Stentz characterized the new script this way: