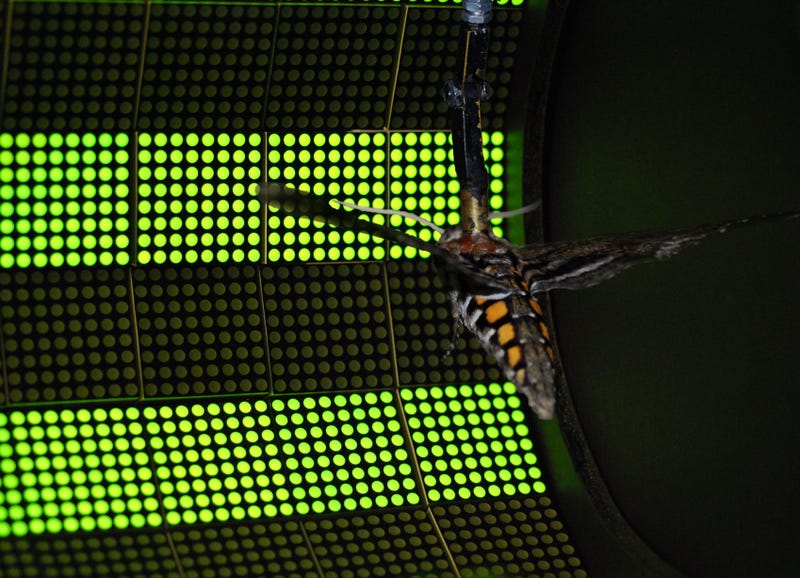 When it comes to insect flight, we usually only think about how the insect's wings contribute to aerial stability. But scientists have now discovered that the abdominal movements of some insects also play a large role in flight control, particularly when hovering — a finding that could lead to improved aerial drones.
Scientists often take cues from nature when building robots. And given that an insect's wings provide the lift and thrust forces necessary for flight, they've been the focus of a lot of research. But biologists have long wondered if insects also use their abdomens to help with flight control. After all, numerous studies have documented tethered insects making exaggerated abdominal movements in response to changes in their visual environment.
Some scientists have speculated that the insects employ their abdomens, which make up a good portion of their bodies, as steering rudders. That is, by moving their abdomens in one direction or another, insects can increase the drag forces on parts of their bodies, helping them to turn. Alternatively, an insect may move its abdomen during flight to shift its center of mass relative to its center of lift, creating a moment of inertia that essentially counteracts the rotation the insect may be experiencing from, say, a gust of wind.
But nobody has ever tested whether either of these theories is true, or if the observed abdominal movements are merely a result of being tethered. So a group of biologists and engineers set out to do just that.
They began by tethering a hawkmoth (Manduca sexta) into a circular flight arena and surrounding it with an LED display system. They created a grating pattern of green and black bars on the screen (seen in the image above), and rotated the pattern up and down.