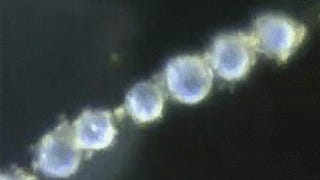 Scientists from Penn State University have just taken us a major step closer to a Fantastic Voyage future. For the first time ever, researchers have controlled the movements of living cells by inserting tiny synthetic motors directly inside them.
Top gif: A spinning assembly chain of rotating HeLa cells shown at 500X magnification. Credit: Mallouk Lab, Penn State University.
Medical nanotechnology is a kind of holy grail for futurists. Once realized, these molecular machines will revolutionize medical science and the human condition itself. Nanobots will be able to perform medical diagnoses internally, eliminate toxins and disease, produce medicines directly inside our bodies, and supplement existing biophysical processes such as respiration and immunity. More short-term, controllable cells could be used to cruise around the body, communicating with each other and performing various kinds of diagnoses and therapy.