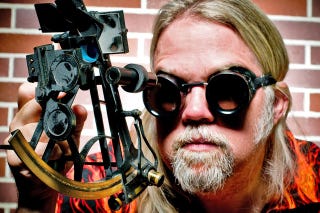 The first time I met Jay Lake, he was greeting people at a convention party in a Hawaiian shirt and joking, "That's right. I'm Cancer Guy." Lake was willing to joke about his identity as cancer survivor, while also inspiring others. But his identity as a writer and editor of groundbreaking SF was even more important.
Long before I met Lake, and was exposed to both his legendary buoyant personality and his willingness to joke about the disease that ultimately claimed his life, I was well aware of the massive debt SF owed him.
The Campbell Award-winning author put out a slew of novels that defied categorization. He helped make the New Weird into a vibrant movement with the urban fantasy-tinged City Imperishable series. He blurred the lines of steampunk, epic fantasy and religious weirdness with the Mainspring trilogy. And he created one of the great memorable female characters of recent years with the courtesan-warrior in Green and its sequels. We praised the beautiful, evocative writing and mixture of brutality and cleverness in the worldbuilding in Green.