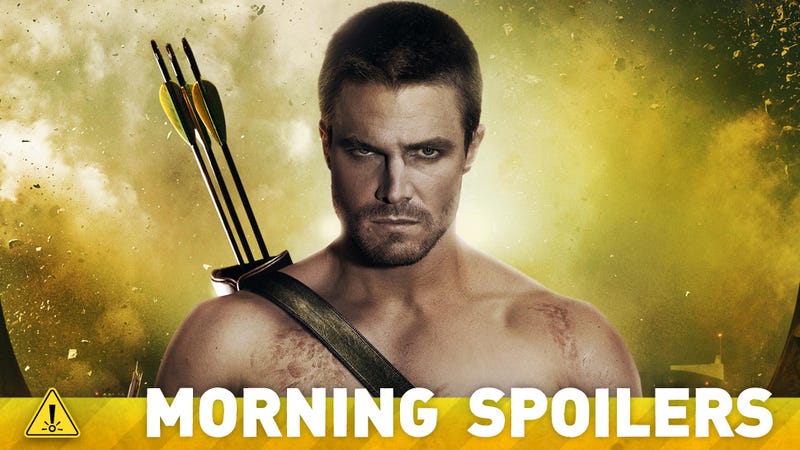 Arrow's exec producer says the Flash will have a close relationship with a surprising character. Joe Quesada explains Graviton's appearance in Agents of SHIELD. And check out Julianne Moore's makeover to play PresidentAlma Coin in the Hunger Games. Spoilers ahead!
X-Men: Days of Future Past
Peter Dinklage told Entertainment Weekly all about his view of Bolivar Trask, inventor of the Sentinels, and the biggest challenge his character faces:
I didn't want to play the villain. He's a man of science. He's a man of invention. He actually sees what he's doing as a good thing — [his ambition is] definitely blind and he's quite arrogant. He's strove all his life for a certain respect and attention.

He's up against Richard Nixon. He's got some hurdles.
---
Star Wars
If you were worried about the possible Disneyfication of Star Wars, J.J. Abrams is ready to put you mind at ease. Appearing on PBS, Abrams said:
The beauty there is Disney doesn't want that. They are well aware of this and they are very careful to make sure that...they are sensitive to that. They don't want that at all, that's the last thing they want. But that company, which is Marvel, they have...it's incredible the scale of that company. They are as aware of that as anyone.
Rumor has it that the new animated series Rebels will take place when Luke Skywalker and Leia Organa are eight years old, which places Rebels eight years after Return of the Sith or twelve years before A New Hope. The rumor originates with a Bleeding Cool podcast, which also claims that Luke and Leia won't be in Rebels. In response, Lucasfilm's Pablo Hidalgo tweeted that we should "put a pin" in this rumor until after his New York Comic Con panel. [TheForce.net]
And now the daily Episode VII casting rumor round-up:
Saoirse Ronan confirmed she auditioned, but said "so has everyone." If even half the rumors are true, she's absolutely correct.
Latino Review says Sullivan Stapleton is also taking meetings
They also have Daniel Day Lewis having a meal with George Lucas and Kathleen Kennedy.
If that last one means anything, can we please have evil Sith Lord Daniel Day Lewis? Just a little pipe dream. [MTV]
---
Hunger Games
Here's a behind-the-scenes featurette:
And here's the first look at Julianne Moore in costume as President Alma Coin. She's got her District's standard issue grey jumpsuit and watch communicator and the character's grey hair and grey eyes. There's a little bit of a theme there. [E! Online]
---
Carrie
New TV spot:
---
Transformers: Age of Extinction
The movie will officially be filming at t the Wulong Karst, which contains the ThreeNaturalBridges and Qingkou Tiankeng Scenic Area. Given that the Dinobots have been confirmed, speculation has it that this'll be the location for their origin tale. [Transformers Live Action Movie Blog]
The film's also wrapping up its filming in Chicago, which will apparently end with "the mother of all bombs." Here are two videos showing some smaller pyrotechnics. [Transformers Live Action Movie Blog]
---
The Chronicles of Narnia: The Silver Chair
It's been three years since the last Chronicles of Narnia movie, but it's been announced that the C.S. Lewis Company has a new deal with The Mark Gordon Company to adapt the fourth book, The Silver Chair. [First Showing]
---
Big Hero 6
In an interview with Comic Book Resources, Joe Quesada offered an update on this Disney-animated film:
"Big Hero 6" is really looking great. Don Hall, Kristina Reed and the entire crew are such amazingly talented people and have such a love for all things Marvel that it's been an absolute blast working with them. They've really taken the BH6 property, which at the end of the day doesn't have a lot of publishing history behind it, and built an entire world and mythology around it.

Being there from the very beginning, the process has been amazing to watch. The amount of research Don and his crew have done is exhaustive and beyond thorough, and I don't just mean with respect to reading the comics. From the design of the characters and their tech to the look of the world, no stone has been left unturned and a lot of frequent flyer miles have been tallied up to get where they are at this juncture. These guys have traveled the globe to make BH6 the very best it can be. It's a tribute to how John Lasseter runs the animation division. He encourages this kind of thorough research, and you'll undoubtedly see the results in the story and on the screen and I'm sure in the making of DVD.

At the end of the day, the hope is that the audience won't be consciously aware of it because it'll be seamless. And really, that's what you want. You just want people to accept this incredibly fantastical world as the reality they're living in for the next 90 minutes.
---
Agents of SHIELD
In the same interview, Quesada explained the reasoning behind using Graviton in the new series:
There were several reasons for using Hall. If you're a long time Marvel fan, of course you'll recognize the name, and we knew that would pique interest. It's always fun to throw in an established character when you can to get fans excited. Heck, it gets us excited! But he's also a very compelling character on his own. So if you're not a comic fan, he's a character you'll be introduced to who we think will appeal to folks who don't have an encyclopedic knowledge of the MU, especially this incarnation that our "Agents of S.H.I.E.L.D." writing team has come up with. Of course our loyal fans know that some interesting things happen to Dr. Franklin Hall in the pages of our comics, and while I'm not saying that those things happen here, the fact that perhaps someday they might is kind of cool.
He also said that, even though Agent Coulson's been animated in Ultimate Spider-Man, there are no plans for other cast members of Agents of SHIELD to cross over to the cartoon. He doesn't necessarily rule it out, though, just says that they haven't talked about it and it's too early to do so. [Comic Book Resources]
Jed Whedon and Maurissa Tancharoen break down all the characters for TV Guide. Tancharoen says Melinda May and Coulson have worked together before and added:
She's a Black Ops specialist and a long-time veteran and she's fairly wounded both emotionally and physically. We don't know why she went into hiding in paper work.
They also hint that Agent Grant Ward has secrets, and that Fitz and Simmons will keep having challenges when they go out in the field. More at the link. [TV Guide]
---
The Walking Dead
New "Nowhere Is Safe" teaser:
---
Arrow
Here's a sneak peek of the new season, featuring everyone's favorite character, Stephen Amell's abs:
And go here for the cast photos.