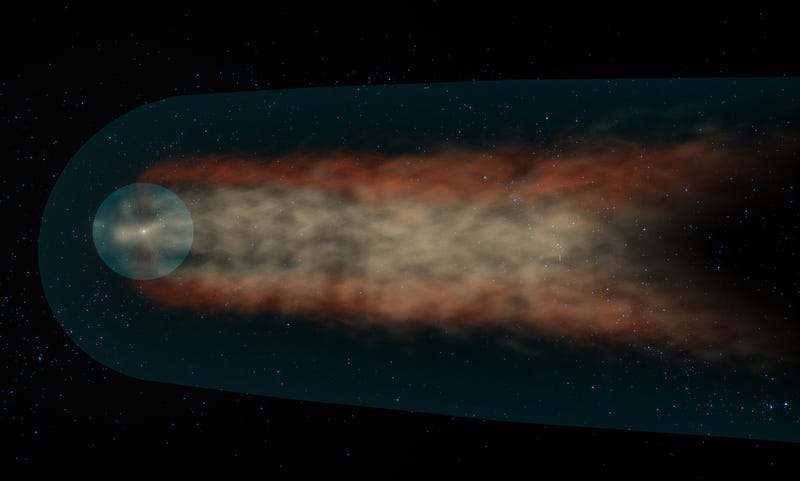 According to NASA, both the existence of our solar system's tail and its general shape have now been confirmed, which... wait – our solar system has a tail?
Yes. Let's bring you up to speed.
One: Our solar system has a tail – a loooong stream of solar particles that astronomers call, awesomely, a "heliotail."
Two: The particles in the heliotail are left behind by a big bubble of sorts called the "heliosphere" – a cosmic orb of solar wind that surrounds our sun and encompasses Earth and all the other planets:
Image Credit: IBEX Team/Adler Planetarium
Three: Until a couple days ago, our solar system's hindmost feature was merely an assumption. Astronomers reasoned that a solar system moving through the Universe could be expected to leave bits of itself in a trailing stream, not unlike a meteor leaving bits of itself behind as it blazes through the cosmic firmament. We've seen the heliotails of other stars, but never our own.
Above: The star Omicron Ceti, at far right, hurtles through space. At its leading edge, a curved "bow wave" of solar particles struggle to get out of the way, while a tail of stellar wind material measuring THIRTEEN LIGHT YEARS in length trails behind – Image Credit: NASA/JPL-Caltech/C. Martin (Caltech)/M. seibert (OCIW)
Now we have, with the help of NASA's Interstellar Boundary Explorer, a.k.a. IBEX.