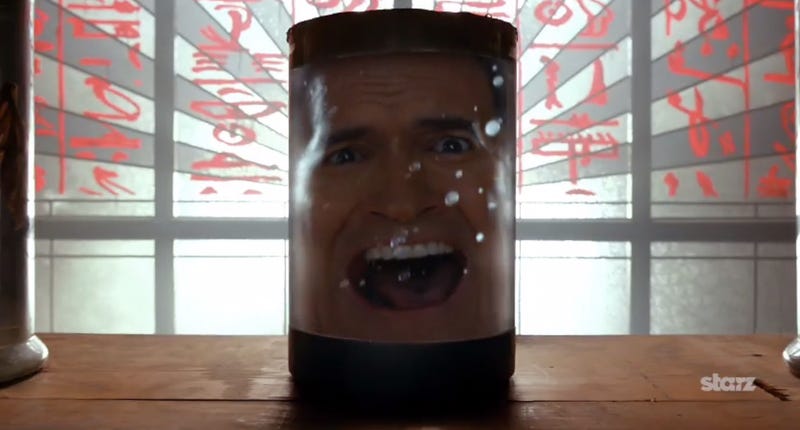 Having narrowly escaped demonic adversaries, including one conjured just for the occasion, back at Books from Beyond, Ash and company hit the road for Casa Brujo—only to find their escape wasn't as clean as they thought. Plus, Lucy Lawless' character, Ruby, finally reveals her intentions. Sorta.
Spoilers!
The cliffhanger last week—in which a handcuffed Amanda Fisher was being menaced by the newly Deadite-ed owner of Books from Beyond—played out like most of us expected. Ruby, of course, appeared in the nick of time to run some much-needed interference, with bonus sass. "Hello ... I'm your new best friend," she tells Fisher, before stomping the ghoul into oblivion and extending a black-gloved hand in solidarity.
Since both women are keen to find a certain Ash Williams, it makes sense that they'd team up. Fisher would dearly like to know his connection to her partner's death, as well as other casualties and weird goings-on of late, while Ruby has straight-up vengeance on her mind. Seems she's the daughter of Professor Knowby, of Evil Dead fame. She lost her father, mother, and sister Annie in that cabin in the woods, and she's been hunting Ash ever since.
Of course, as showrunner Craig DiGregorio hinted in our interview with him last week, there's still more to Ruby that we haven't learned yet. One clue: "We know who you are," the Deadite bookseller shrieks at her, but she thwacks it good before it can reveal any more.