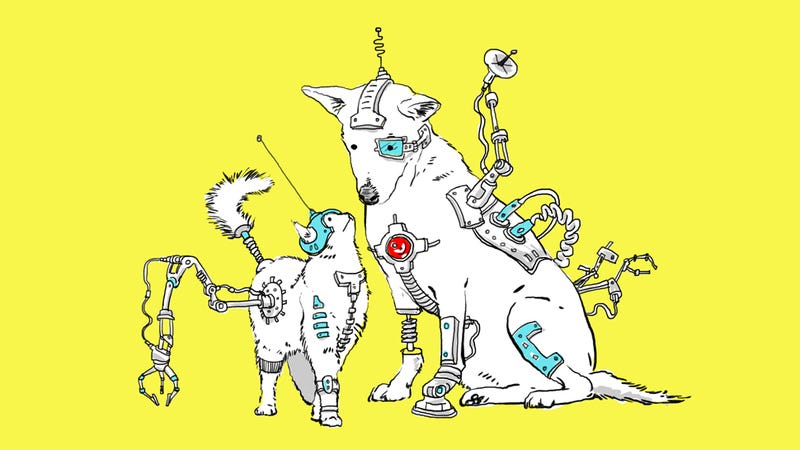 Wearable tech like fitness bands and GPS trackers are all the rage, and our pets are starting to use them, too. These tools can help us monitor and track our companion animals. But these devices are also changing our pets' capabilities and how we interact with them. We've entered the age of cyborg animals.
Illustration by Jim Cooke.
When you consider how much we love and care for our pets, it's really not surprising to learn that we're extending many of our technologies to them.
Emily Anthes, science journalist and author of Frankenstein's Cat: Cuddling Up To Biotech's Brave New Beasts, says it's all part of the natural evolution of wearable device technologies. "Many of us consider our pets to be like our children or members of the family," she tells io9," So it makes perfect sense that we would want to track this sort of data in our pets."
Anthes believes these devices can help pet owners become more aware of their pets' psychological and physical health. Because animals cannot tell us the details of what's wrong (or right) with them, these tools can help us bridge the communications gap.
Animal behaviorist and conservation biologist Con Slobodchikoff agrees. "We are finding out that dogs and cats are much more intelligent than we once thought," he tells io9. "They can understand not only a lot of what we say to them, but our emotions as we say it. They are closely attuned to our moods, and often will seek to comfort us when we are not feeling well, just like our human friends."