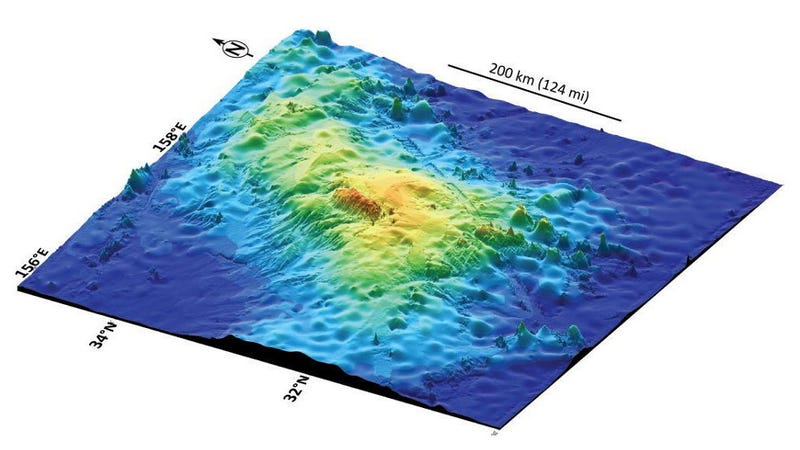 Move over, Mauna Loa, there's a volcano on Earth that's even bigger than you. Scientists have confirmed the existence of a massive underwater volcano that could be the second largest in the solar system — one that even rivals Olympus Mons on Mars.
Scientists have known about the geological phenomenon known as the Shatsky Rise for two decades, but they weren't certain if it was a single volcano or part of a series of volcanoes.
Now, as research conducted by the University of Houston's William Sager and colleagues suggests, we now know that the massive, rounded, dome-like structure is indeed a mass of basalt that was formed by a single volcanic source near its center. The geologists were able to make this confirmation by analyzing core samples and data extracted from underwater explorations. They also looked at deep-penetration seismic scans taken from a survey ship.
Called Tamu Massif, it's located in the Pacific Ocean about 1,000 miles (1,600 km) off the east coast of Japan. The immense shield volcano encompasses an area about 120,000 square miles (310,799 square kilometers) — which is an area similar in size to the British Isles or the state of New Mexico. By comparison, Earth's most active volcano, Hawaii's Mauna Loa, takes up 2,000 square miles (5,180 square kilometers), making it 60 times smaller.
It's worth noting that Tamu Massif is a shield volcano, and not a caldera like the one at Yellowstone National Park.