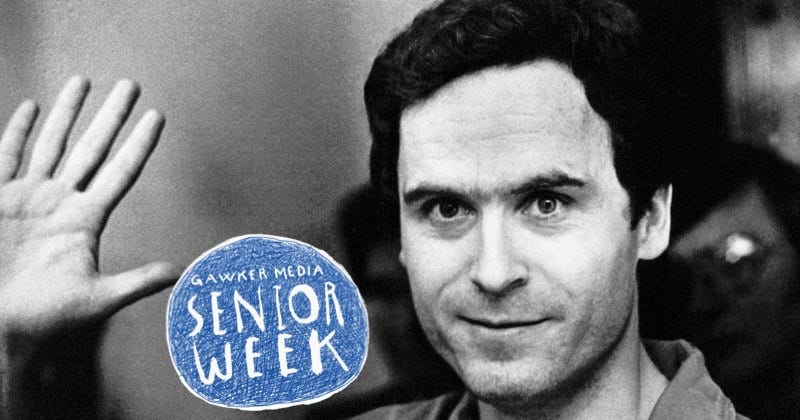 I blame Nancy Drew. I think my obsession with true crime may have started with her mysteries—specifically, those hardbacks with the yellow covers, in which the young detective pieced together inheritance scams while dodging kidnappers and car thieves. But it may have also begun with a 1986 TV movie about Ted Bundy.
It was probably both. Those Nancy Drew books, for all their vintage charm and predictably happy endings, hinted at darkness—crooks who stole from elderly River Heights residents, treasure hunters who kept chloroform on hand in case nosy teenagers started poking into their business, etc. I read them all, multiple times, clutching my library card with one hand and pushing up my glasses with the other.
All those sleuthing stories could have led me down another path. I could have become a film noir scholar, dressing like a femme fatale and spouting off Raymond Chandler quotes. I did not. At a crucial moment, I happened upon the broadcast of a mini-series about Ted Bundy called The Deliberate Stranger. My brain was never the same again.
The Deliberate Stranger first aired in May 1986; I was in the fifth grade and didn't really understand what a serial killer was. (I knew what murder was, though; two girls around my age had been killed in the previous years in my smallish town, and there was no avoiding the fear those terrible crimes brought to the community.) My memory has me watching The Deliberate Stranger, made the year before Mark Harmon starred in Summer School, all by myself... scared, but totally stoked.
After The Deliberate Stranger, Nancy Drew and V.C. Andrews and whatever else I was reading went back on the shelf. I got a copy of Ann Rule's The Stranger Beside Me—about the friendship she had with Bundy, long before anyone knew he massacred women in his spare time—and thereafter started amassing stacks of paperbacks with lurid covers and, if I was lucky, a section of black-and-white crime-scene photos tucked within. The old rule is true, and there's nothing scarier or more gruesome than what the imagination can come up with—especially when guided by a few clinical images of a murder weapon, or a victim's school photograph, or a crude diagram of a house with Xs marking where the bodies were found.
For me, and I'm not alone in feeling like this, being scared from a safe place is incredibly fun. An obvious side effect of my true-crime geekery is that I'm also an insane fan of horror and science fiction. (Or maybe it's the other way around; I definitely started watching slasher movies in their 1980s heyday, which was right around the Deliberate Stranger era.) Both are genres that play on real-life fears and horrors—sometimes metaphorically, sometimes not, sometimes both—and amplify them to fantastic heights.
In the same way that I rooted around used book stores, satisfying my desire to learn more about John Wayne Gacy (or Jeffrey Dahmer, Richard Ramirez, Lizzie Borden, Ed Gein, Richard Speck, the Zodiac Killer, the Manson Family, Charles Whitman, and all the other all-stars), I also prowled the local video store aisles, looking for horror movies new and old that promised eye-popping frights. Even better are scifi movies that meld the two genres, like Aliens and The Thing.