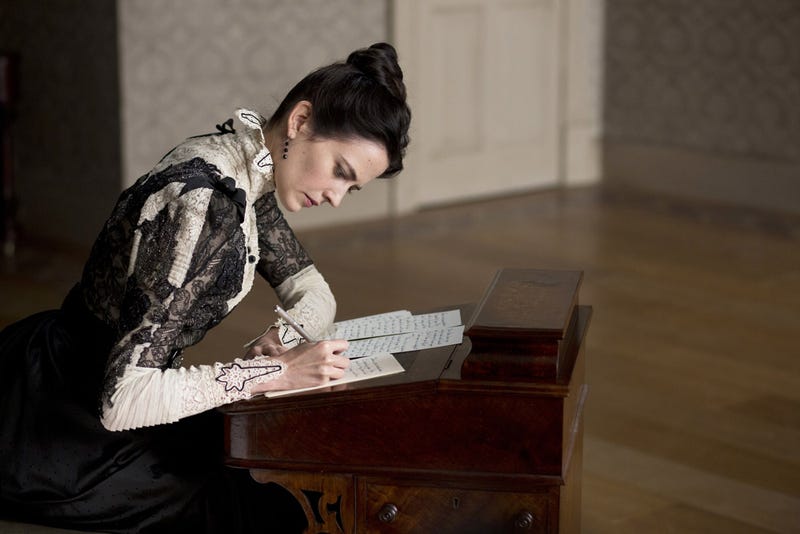 The first episode of Penny Dreadful gave us Victorian pulp, some great acting, immersive atmosphere, and things that go bump in the night. Turns out this Gothic was just getting started, as "Séance" rockets the show into an impressive second act.
Spoilers ahead...
I want to break down a lot of things here, especially since this episode offered two showstopping scenes (so early in the run that I am now even more excited and terrified about the next six), but perhaps it's best to start at the beginning, where director J.A. Bayona and the cinematographer do some artful work framing the terror of this doomed woman.
And, much like with Sleepy Hollow, this show has such a firm hand on its tone that I both appreciated this shot and waited patiently for the pan of her limp apple-clutching arm to end abruptly, because I already knew was inevitable. (Explosive deaths will continue until morale improves.)
Cut to: Ethan waking up on the water's edge, hand punctured as if from defensive wounds, looking out of it. You know, we've seen vampires and Frankenstein, and this dude's waking up on the beach despite having enough money for a room, and somebody's eviscerating all these cold opens, so if the show is trying to tell us he 's a werewolf, I'm behind it.
Facing another long day of nobody telling him anything, he stumbles into this mariner's inn, which the set decorator wanted you to know is the most nautical possible inn:
("Aye, mariners hung those lengths of rope for safekeeping long ago, then neeeeeveer returnnnnned," this inn's servers are probably trained to say about these decorative ropes, like waitstaff at Disney who have to pretend they're actually pirates.)
While drowning his sorrows with a bottle of whiskey, he meets the lovely Irish prostitute Brona, played by Billie Piper, whose screen presence is as winning as ever and whose accent has got to be kidding me. However, one of the small things I appreciate about this show is that it doesn't race to define the nature of meetings or even the nature of relationships. They enjoy each other's company in that this-is-doomed consumption-ridden way, and they meet up and exchange small talk in their little bits again this episode, and it establishes a certain regard and friendship that doesn't immediately lead to a sex scene. To the outside plot, so far, their meeting only matters once (we'll get there); otherwise just know Ethan spends the episode drinking and chatting a little and being quietly thrilled that someone's volunteering information.
Brona's appointment for the day is Dorian Gray, less a character in his own right than the great-grandfather of Pete Campbell's combover. It's quite a house, though.
Great setup; Dorian's never out from under the watchful eyes of strangers. Sure, for him this is an excuse to have sex with a woman who has consumption, and for the show it's an excuse to get in a sex scene, but really it's an excuse to prove that there's nothing that can't be made darker, since she coughs blood right onto his face with the velocity of somebody experiencing an imminent chestburster and it just turns him on.
Did someone call for some visual commentary about the voyeuristic gaze vis-a-vis the Victorian obsession with sex? Great, thanks, show.
Did you want to add some additional commentary about sexual flesh vs. criminal flesh and the endless Victorian appetite for both as captured by the emerging technology of the photograph?
Sure did! Nice. There's not much other reason for this scene to exist, except for Malcolm to deduce a few expositionary things from last week for a policeman who isn't even sure why this subplot is here. Dalton also gets to Dalton his way through a line about how they have to stop hunting a man, and start hunting a beeeeeeeaassst.
Speaking of people who definitely are not involved in the horrifying monstrosities of the supernatural, Ethan stops by the post office to VO some mail.
I have no strong opinions about Josh Hartnett, but whatever his level of talent, he is more effective at conveying his internal life when he's quiet. This screencap indicates a bereft, regretful soul; the voiceover letter he was reading sounded Telepromptered. (It was also egregiously signed, "Your father." I believe you mean OUR father, Josh.)