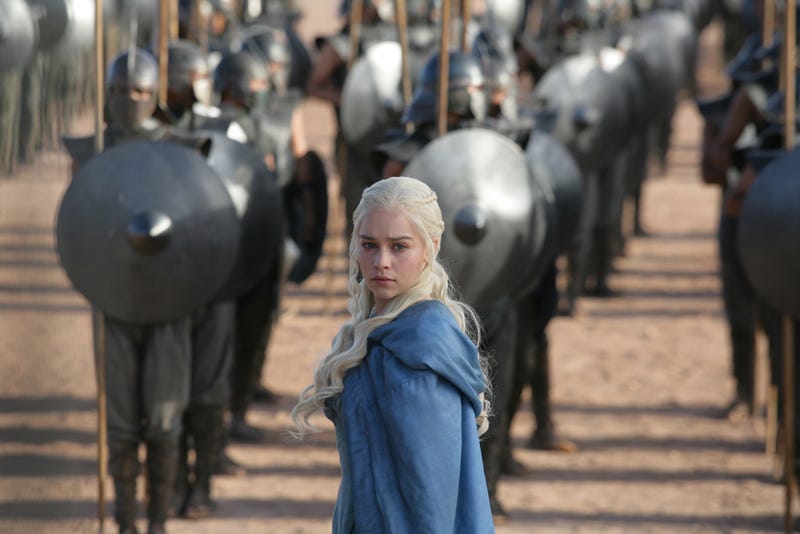 Last night's episode of Game of Thrones had a pretty clear theme of mutilation and revenge running through it. But slightly further below the surface was the idea that seeking revenge requires not just patience, but strange friendships. Scheming to destroy the people who've hurt you actually changes who you are. Spoilers ahead...
First off, let's just say that this was clearly the best episode of the season thus far. Not only was it a rich tapestry of ideas and themes, but it was also chock full of the kind of scheming, spying and maneuvering that everybody loves Game of Thrones for. In particular, in an episode full of note-perfect performances, Varys still pretty much managed to steal the entire thing.
Mutilation and revenge
So first off, the theme of "mutilation and revenge" is pretty much right there on the surface of this episode — it starts with Jaime Lannister wearing his own severed hand around his neck and being fed horse urine and beaten horribly. And Brienne of Tarth counsels Jaime to live for revenge. Meanwhile, Tyrion seeks out Varys for information he can use to avenge himself on his sister Cersei for his grievous face wound and attempted murder, only to hear the story of Varys' own mutilation and his slow rise from the gutter — and to witness Varys apparently taking his long-delayed vengeance on the man who took his manhood.
And then, at the end of the episode, a whole army of castrated slaves rises up and kills their masters at Daenerys Targaryen's orders — at first you sort of think this doesn't count as revenge, because they're just following orders the same way they would slice off their own nipples on command. But then she tells them they are free to go, and after a long pause they start banging their spear-butts, and then march behind her, trampling the slaver's whip into the dust.
Arya also seizes the chance to get revenge on Sandor "The Hound" Clegane, who's been captured by the outlaw Brothers Without Banners, and is accused of being a nasty man — but nobody can come up with any specifics. Arya supplies a specific charge, that of murdering the butcher's boy who was sparring with her, way back in episode two, "The Kingsroad."