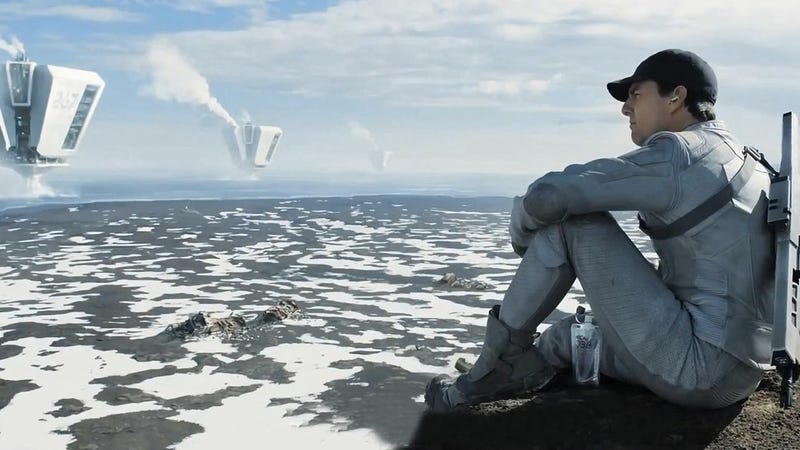 With its cool, liquidy visuals and CGI-esque Tom Cruise as its lead, Oblivion has all the hallmarks of a summer action movie. But it's not. This is a flick that aspires to be a psychological thriller — and occasionally, it succeeds quite well.
Cruise is generically rugged and fearless as Jack Harper, a technician assigned by the 2070s human government to oversee the final destruction of Earth. After a protracted war with the alien "Scavs," the menace is contained — but the planet is ruined. Most of humanity has relocated to Titan, or to a vast, pyramid-shaped orbital city called the Tet. Jack and a few remaining humans have stayed behind to draw the last bits of energy from the oceans, which they're sucking dry and converting to hydrogen. (Apparently this is easier than mining the Sun or Jupiter for hydrogen? Whatever.)
Because the Scavs still live in hidden colonies on Earth, Jack has had his mind wiped "for security," and remembers nothing about his life before he lived with his gorgeous co-worker/lover Vicka in a pyrex mansion high above the clouds. From the transparent bottom of their outdoor pool, the two of them can see the enormous water-sucking machines and the deadly, spherical drones that shoot any Scav who dares approach their precious energy plants.
Oblivion was directed by Joseph Kosinski, whose first feature was the gorgeous but uneven Tron Legacy, and you can see his characteristic visual style everywhere. The movie is shot in frothy blues, whites, and grays, and Jack's helicopter/motorcycle is spotlessly white and unbound by the laws of physics. Jack and Vicka live above the former New York City, which has become a wind-buffed ruin, inexplicably converted into a long ravine lined with skyscrapers. Everything looks beautiful, if a little antiseptic and implausible.