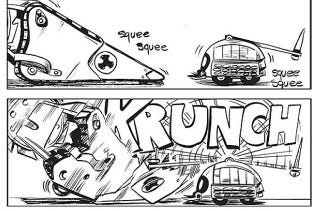 Nothing Can Possibly Go Wrong came out about a month ago, and I keep looking back and finding new favorite moments and reasons to celebrate this awesome book about robots and cheerleaders. It's seriously become my happy place lately.
In Nothing Can Possibly Go Wrong, Charlie and Nate are a weirdly mismatched pair of high school friends. Charlie is the captain of the basketball team, and an all-around popular kid. Nate is a computer geek and member of the robotics club. Their unlikely friendship is fine — until the cheerleaders and the robotics club are competing for the same money. Either for uniforms, or for robot supplies. Nate declares war on the cheerleaders, running for Student Council so he can get the money. And the cheerleaders fight back, naming the perfect candidate to run against Nate: Charlie.
The high-school politics get ugly and hilarious, with the roboticists and cheerleaders competing to fight dirtier, and it's just a wee bit reminiscent of Election, which is a very good thing. But then things take a surprising turn, which I won't give away, and the whole thing just gets more and more awesome.
We featured this story back when it was a webcomic, and we've also featured the work of artist Faith Erin Hicks before. Back then, the comic was still half completed, and we expressed a hope that there would be lots of great robot action, as well as some chainsaws. Having read the whole thing cover to cover, I can attest that the robot action more than delivers, and there are chainsaw teeth if not actual chainsaws. There may be some fist-pumping as you read the final 20 or 30 pages.