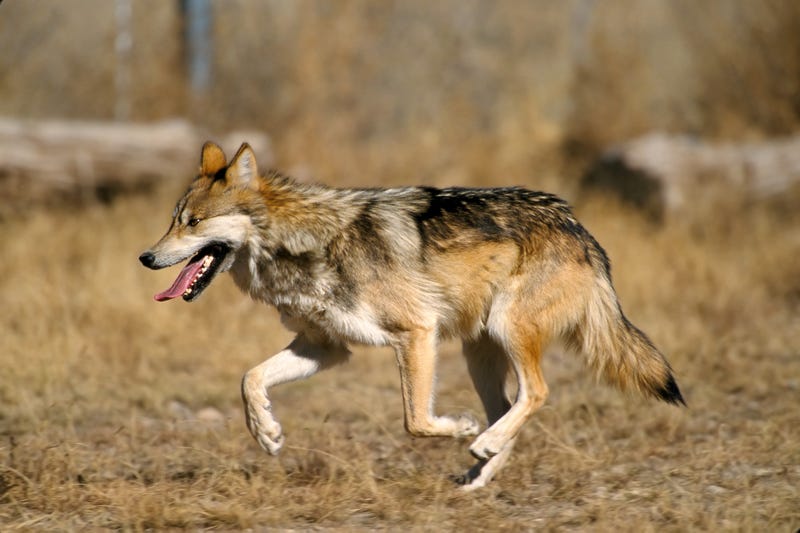 In Reserve, New Mexico, children huddle together inside "kid cages" while waiting for the school bus. The wood and mesh structures, pictured below, were ostensibly built to protect young ones from being preyed upon by local wolf populations. Sound ridiculous? That's because it is.
Above: A captive Mexican wolf at New Mexico's Sevilleta National Wildlife Refuge
Photo credit David Spady
"I think the 'kid cages' are a publicity stunt designed to stoke opposition to Mexican wolf recovery in general and to the federal government in particular," said Daniel MacNulty, a wildlife-ecology professor at Utah State University who's been studying wolves in Yellowstone National Park for close to 20 years, in an interview with National Geographic. "Why else would the anti-federalist group Americans for Prosperity be circulating photos and videos of the cages?"
The cages have become the latest nucleation point for a longstanding political debate between the U.S. Fish and Wildlife Service and conservative groups like Americans for Prosperity. The former is pushing for the Endangered Species Act to protect about 75 Mexican wolves in New Mexico and Arizona. The latter calls this protection government overreach, and the wolves a threat to humans and livestock.
Livestock? Sure. But the claim that wolves are a threat to children is a baseless one, and foregrounding the threat to school kids with these chicken-coop like structures is just stupid, stupid, stupid. Hell, the livestock is technically more dangerous to the kids than the wolves.