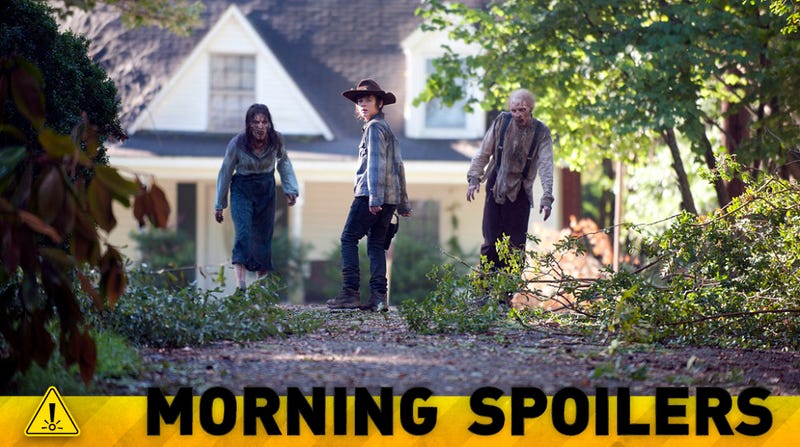 Pirates of the Caribbean 5 remains in limbo. Arnold Schwarzenegger says great things about the Terminator: Genesis script.There's incredibly revealing descriptions of new Spider-Man footage. And Person of Interest will be bringing in a lot of villains before the season finale. Plus, new photos from How to Train Your Dragon 2. Spoilers now!
Terminator: Genesis
When asked whether the film would keep the name Terminator: Genesis, Arnold Schwarzenegger went on to describe how the film feels to him:
Today, studios switch titles because everything has been tested. They'll give an audience five titles, and then they'll pick one. But Terminator is going to have the exact same feel. The way it reads, it has the same feel of Terminator 2. It's big. There's hardcore action and it has some really great visual effects in there, but not over the top. It's not a Thor type of movie, even though it's the same director. It has good special effects, but just enough to say, "Wow, where did that come from? How did they do that?"
---
Godzilla
Director Gareth Edwards spoke to Shock Till You Drop about the major themes of the film: Man vs. Nature and the origin story:
There's definitely a strong theme in the film, it's kind of "man versus nature." And when we started off in the process of defining Godzilla, what is he about, what makes a Godzilla movie, what makes a monster movie, and we were brainstorming and watching all the old movies again, the thing that comes through is that in some movies, he's slightly evolved and represents different things, but he's always a force of nature like the wrath of God that comes to put us back in our place when we kind of think we own the world. You can't control nature. When we start thinking we can control nature, that's when it all starts to go wrong. And that happens a lot in our movie. You see it quite a bit, that is our arrogance always comes back to bite us.

. . . It is an origin story. It's not about having seen another film to understand this movie. It's supposed to be the beginning. But it doesn't just take place in modern times. There are other aspects to it. And in a way, the mistakes we made in the past come back to haunt us in the present, and that is something that the whole movie is driven by - whether you want to call them "mistakes" or "choices" - that now we pay the price for. Because for me, a monster movie just for the sake of being a monster movie can kind of become a pointless exercise, so it's about finding the right symbolism in what he represents and trying to find a storyline that expresses that. And I'm really pleased with the playground we're playing in because I think it's very much on theme. And I hope that when people see it who are big Godzilla fans, they'll be happy with the choices we made. We definitely tried to stay as true as possible to the original in terms of thematics.
He also hinted at, without giving too much away, the threat that isn't Godzilla:
I'm not sure what I can and cannot say, but I'll say that it was really important that we didn't do a Godzilla movie where it wasn't just one creature because you can quickly run out of people pointlessly trying to fire which is why Toho movies were always him "versus" something else, and the whole "franchise" or whatever you want to call it was involved in the creatures. So, when you get into it, you have to make that choice that you mentioned and we made…a choice…but without giving too much away, it's not as simple as that. It's not as simplistic as "Is there a good or a bad?" Through the course of the movie it starts to form.
More at the link. [Shock Till You Drop]
Bryan Cranston also said that the film, which does have a lot to do with the past, is more linear than that would suggest:
It's more linear. It goes up to, when [Aaron Taylor-Johnson's] character of 'Ford' as a boy, when this eruption starts to happen, and the scientific discovery, and then there's a big situation that happens that catapults us to the next jump in time, and that's when we pick up the story in 2014, and that's when he's a grown man with his own family.
He also talked about the dynamic between his character, his son, and his daughter-in-law:
He has a great bit of resistance towards me, because of our past, and she plays the peace-maker. You know, 'He's your father, you have to do the right thing.' So we have that kind of a relationship, and it's good. And Juliette Binoche plays my wife, and I rewrote a lovemaking scene, and submitted that. You know, just back-story. Let's be as honest as we can. It didn't make it into the script, so then I suggested, 'You wanna' work on the scene outside of set?'
---
Marvel
Kevin Feige hinted that, as they introduce more characters and lines, we may start seeing more than the current "2 movies a year" schedule from Marvel:
I think television is filling some of that now, in terms of bringing out more product. That's certainly the idea with the Netflix shows. But I don't know that we will necessarily say "Okay, we're now moving strategically to three a year, now we're moving to four a year." What I think is more likely - if [knocks on wood-like table] the next group of movies work and people want to see additional stories - we'll have too many franchises and you can't do one of each franchise every two or three years. We'd have to move to three a year, but that would have to be a natural move if it were to occur. We'd have a [script] draft, we'd have a filmmaker, we'd have a character the audience wants to see - let's slot in a place for a third one. Or a fourth one.

But it's hard enough to deliver two quality, hopefully bar-raising movies a year.
In one way, it makes sense. If Guardians of the Galaxy and Ant-Man do well enough to get sequels, and Marvel continues to adapt other new properties, they're going to start having more movies than years. On the other hand, Feige is right about the difficulty of delivering just two good movies every year. And he's not even mentioning the possibility of comic-book-movie fatigue. [Badass Digest via Slashfilm]
---
Amazing Spider-Man 2
MTV went to a screening of some footage from this film — and from their reactions, the sequel is definitely picking up on the thread about Peter Parker's parents hinted at (and then mostly cut) from the first, according to this description of the opening scene:
The first scene in the movie extends and wraps around the scene from the first movie, where Mary and Richard Parker (Peter's parents) leave Peter in the care of his Uncle Ben and Aunt May. Here, we get to see Richard trying to delete his research from Oscorp, recording a message for Peter and then escaping with Mary on a private jet.
There's also word that the Spider-Man vs. Aleksei Sytsevich/Rhino scene is mostly comedic, with Sytsevich stealing from Oscorp. Finally, there's this description of Harry Osborne freeing Electro from Ravencroft:
Last scene we saw was one later in the movie, when Harry Osborn (Dane DeHaan) goes to the Ravencroft Institute to free Electro, who has been captured post-Times Square. There were a ton of details thrown out here: Electro designed the glider that will be later adopted by the Green Goblin; Harry has been locked out of Oscorp; Harry hates Spider-Man; and Harry is suffering from some sort of disease... To the point that if Electro doesn't help him get back into Oscorp, Harry claims he will die.

They decide to team up, Electro blasts holes in some guards, and Electro has a Dr. Manhattan moment as he blasts apart, only to reappear bit by bit across the room. Luckily, he's also able to electrically reassemble his underwear so we didn't get the full Manhattan.
[MTV]
Here's a new Gwen and Spider-Man international poster. [Coming Soon]
---
Divergent
Tony Goldwyn explained why he took the role of the father of Tris (Shailene Woodley):
I had to read the book a couple of times to understand a) what all the differences were between all the factions and what was going on because there's this quiet coup happening in this society and it gets real, real complicated," he admits.

But that's what makes it great and what makes the book really smart and sort of elevates the book and the movie above the young adult genre, so that's really why I wanted to do it.
---
Pirates of the Caribbean: Dead Men Tell No Tales
The fifth Pirates of the Caribbean movie is in limbo. At a shareholder/D23 meeting, Disney Chairman and CEO Bob Iger said that the tentatively tiled Pirates of the Caribbean: Dead Men Tell No Tales has not actually been greenlit by Disney. [Marc Graser on Twitter via Coming Soon]
---
Michael Bay
Paramount has picked up a project written by Tom Wheeler and Robbie Thompson, which is described as "a real science adventure thriller with an undersea component." It's going to be co-produced by Michael Bay, Brad Fuller, and Andrew Form, with the potential for Michael Bay to direct. [The Hollywood Reporter via Slashfilm]
---
Captain America: The Winter Soldier
Here's the IMAX poster. [First Showing]
---
How to Train Your Dragon 2
Go here for a bunch more new photos from the sequel. [Cartoon Brew via Slashfilm]