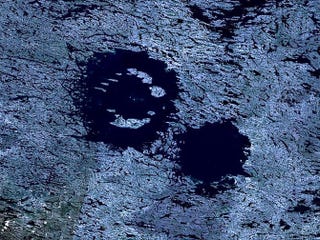 Nearly 15% of all asteroids travel in pairs, yet very few impact craters on Earth have been identified as "doublets" — dual craters arising from sudden back-to-back impacts. But a new analysis has identified a potential candidate in Sweden, the product of a binary pair striking the Earth some 458 million years ago.
Top image: Clearwater Lakes in Quebec, Canada — a potential doublet. Other candidates include Kamensk and Gusev in southern Russia; and Ries and Stenheim in southern Germany.
The fact that binaries are as common as they are — nearly one in every six near Earth asteroids (NEAs) measuring over 650 feet (200 meters) across — is troublesome. Should we ever identify an NEA on a collision course with Earth, there's a 15% chance that it'll be accompanied by a partner. Assuming we'll eventually develop the technology required to steer these objects off course, there's a decent chance that we'll have to nudge not just one, but two objects. It's important, therefore, to acknowledge the risk posted by binaries, and a good place to start is to find historic evidence that double whammies do in fact occur.