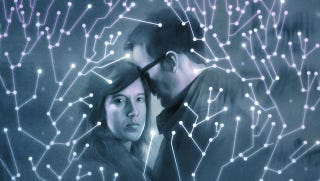 Now it can be told! NBC has put a television adaptation based on my novelette "Six Months, Three Days" into development, with Krysten Ritter, Eric Garcia and David Janollari producing. I didn't really think this was actually going to happen, and I am kind of gobsmacked.
In case you missed it, "Six Months" is a story about the relationship between two clairvoyants, whose powers work in different ways. Doug sees the future as set in stone, with no free will. Judy sees the future as a series of branching possibilities. They both "remember" the future, rather than seeing it on a TV screen or whatever — so both of their powers are subject to all the failings of memory.
I was really blown away by how many people connected with this story, both with the characters and with the ideas. After a decade and a half of toiling in obscurity as a fiction writer, it's beyond intense when something you wrote takes on a life of its own like that. Knowing that something that came out of your head is living in other people's heads, is enough to make your head explode. I felt way beyond lucky.
So then hearing from other creative people that they want to turn my story into something brand new and different is kind of that same feeling of astonishment and luck — only maybe even more so, because of the realization that smart people are putting time and energy into the idea of adapting your story. Whatever happens with this deal, I will never stop being thrilled about that.
So here is the actual scoop about what's going on, via Deadline:
[David Janollari's] Universal TV-based David Janollari Entertainment has partnered with Krysten Ritter's also Uni TV-based Silent Machine Entertainment for Six Months, Three Days, an hourlong project, which has been sold to NBC. Based on the 2012 Hugo Award winning novelette of the same name by Charlie Jane Anders, Six Months, Three Days is a light procedural about a mismatched pair of San Francisco private investigators — an upbeat, free-spirited idealist and a swoon-worthy, brooding fatalist –- both of whom can see the future. Forced to team up, the pair knows their relationship is destined to grow from antagonistic rivalry into fairy-tale true love… but only if they can stop him from being killed in six months and three days. The adaptation will being written by film and TV writer Eric Garcia, author of the novel Matchstick Men, on which the feature film was based. Ritter, Garcia, Janollari and Silent Machine's Lindsey Liberatore are executive producing.
Eric Garcia, of course, is the writer of Matchstick Men, and the novel The Repossession Mambo (which I reviewed here.) When Eric got in touch, I was pretty stoked that he was even interested in my story — but then it became clear that Eric was really serious about this and had tons of ideas for how to build out a 10,000 word story into an ongoing TV show.