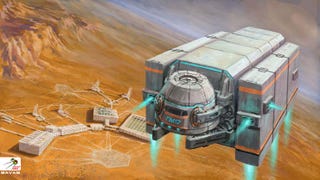 A recent analysis of Martian surface soil samples shows that it contains about 2% water by weight. This is fantastic news for future colonists of the Red Planet.
According to a series of NASA papers just published in the journal Science, each cubic foot of the fine Martian soil contains about two pints of liquid water. That's about one litre's worth, or a quarter gallon. That's a ton — and that'll mean something a few decades from now when thirsty explorers start to colonize the planet.
Now to be fair, the molecules that make up this water are not freely accessible, but are instead bound to other minerals in the soil. To get the liquid water out, future colonists will have to partake in some chemistry, heating the soil to free the molecules from their dusty confines. It'll be an expensive and time-consuming process — not to mention all the equipment that'll have to be involved. But it's nothing that future robots and some nifty automation won't be able to handle.