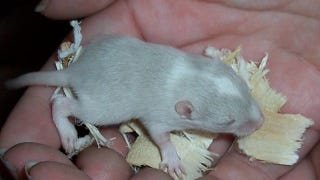 What if you could take a pill to make yourself fall madly in love with someone, forever? That's sort of part of the premise of my story "Complicated and Stupid," which is up at Strange Horizons now. Plus there's a pornstar who headbutts her partners during sex, and the pornstar's pet gerbil.
And yes, this story's title is taken from the Lady Gaga song, "LoveGame."
Top image: Ben McKune/Flickr
I apologize for pimping two of my short stories so close together — "Complicated and Stupid" got published the same week as "Victimless Crimes," which I pimped a couple weeks ago. I basically published almost no short fiction in 2012 and the first half of 2013, and now I have a bunch of stories coming out all at once, due to the weirdness of publishing. It's like buses.