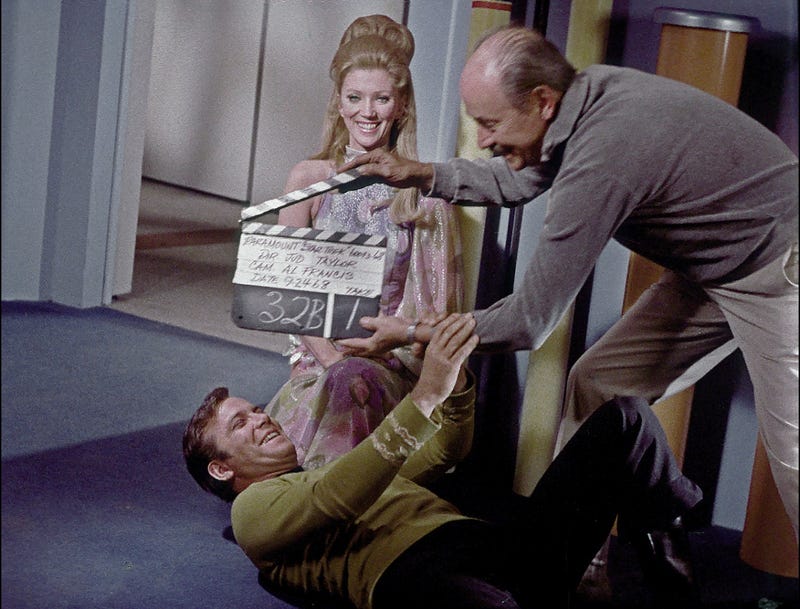 50 years ago, one of science fiction's greatest series was in development. The original Star Trek series was born out of desperation as much as inspiration, and a recent book called These Are The Voyages reveals tons of insane behind-the-scenes details. You think you know Star Trek? Here are tons of details you probably didn't know.
These Are The Voyages is a passion project which author Mark Cushman started working on in the 1980s, with the cooperation of Gene Roddenberry and other creators of the show. And Cushman and co-author Susan Osborn have done an astounding job of pulling together tons and tons of previously unknown info, as well as a startling "warts and all" approach to the creation of the series. There are volumes of These Are The Voyages covering the first and second seasons of the show, and we read the first volume.
The main thing that comes across in reading this book is just how much conflict there was going on during the making of the original Trek — and not just between Gene Roddenberry, NBC and Desilu, but also among the show's producers. You get the impression that Roddenberry and original showrunner John D.F. Black (who provides a foreword) were constantly at each other's throats. Roddenberry would solicit scripts from science fiction legends like Richard Matheson and Harlan Ellison, and then rewrite them completely — and sometimes it would be pretty obvious that Roddenberry had been drinking heavily before taking a scalpel to the work of these famous writers. Meanwhile, Roddenberry was constantly trying to include more explicit sexuality in Trek, and this was a constant battle.
But at the same time, it's clear that a lot of the early episodes were lacking in drama and pacing until either the studio or Roddenberry decided to punch them up. A lot of the early script drafts seem to have been missing elements that add a lot more urgency or interest to the story — for example "The Enemy Within" didn't have the crewmembers stranded on the frozen planet, an addition that Matheson hated.
The other thing that comes across in reading this book is that a lot of the people who worked on Star Trek were doing really experimental, somewhat avant garde work for television of the time. Everything from the lighting (which was more cinematic and less "flat" than other TV shows at the time) to the editing and direction (which used some camera setups that made it harder for the networks to do cuts, and sometimes used filmic artistic techniques to cut from shot to shot, like the bloody handprint in "Enemy Within) was more like a movie setup, and less like the TV factory model.
Small wonder that the show was constantly going over budget, and the filming was often running an hour or more late and taking up extra days. And some episodes were requiring four or five months of post-production.
These Are The Voyages goes through, episode by episode, and shows you the whole process from first draft to filming — and you get to see just how much this show was being made by the skin of everyone's teeth, and how incredible it is that the show actually survived out of its first year.
We already told you some facts you never knew about TOS , but here's another huge helping of surprising facts.