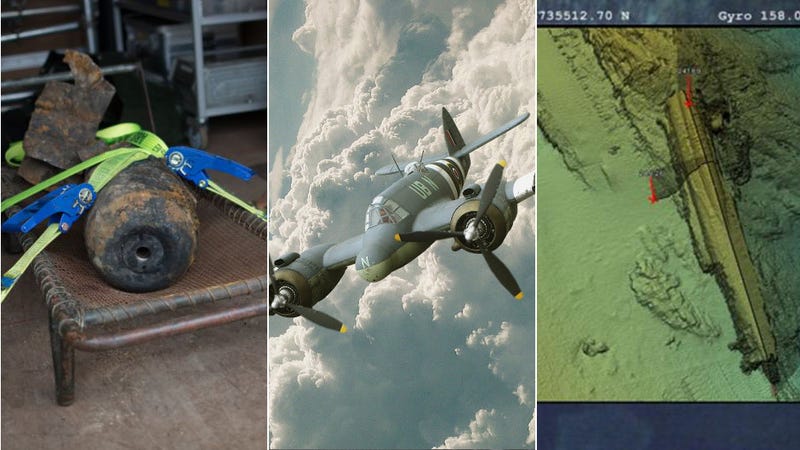 The past several weeks have seen the discovery of a surprising number of remnants left over from the Second World War. The latest finds include a sunken Nazi sub off the coast of Norway, the re-discovered remains of a Bristol Beaufighter Mk X in Italy — and an unexploded 200 lb bomb in Germany.
Indeed, after a conflict that killed nearly 70 million people, it hardly comes as a surprise that there's still so much junk left over. But like the recent incident in Germany has shown, the lingering threats from the war are still very real.
The bomb was discovered less than 20 feet from a train track near Berlin's main station. Some 840 people had to be evacuated from central Berlin and nearby schools and hotels shut down. German authorities had to put planes into a holding pattern above the city as a bomb squad worked to defuse the Soviet-made device.
As National Geographic reports, it's a fairly routine event that's nowhere close to coming to an end. And fact, things could start to get even worse as the unexploded bombs decay and get harder to defuse:
Unlike the Munich explosion, Wednesday's incident was "a totally normal defusing," Berlin bomb squad head Dietmar Puepke told reporters at the scene.

Puepke has had a lot of practice, and experts predict he and other bomb disposal experts will get a lot more in the years to come. In the German capital, 2,000 bombs have been recovered since the end of the war. And experts say between 2,000 and 4,000 tons of explosive material—including unexploded hand grenades used during the fierce battle for the capital in 1945—still litter Berlin.

"They find and defuse 10 or 15 bombs each year," said Wolfgang Spyra, former head of the Berlin Police Department's Forensic Science and Engineering Department and a retired professor at Brandenburg Technical University in Cottbus. "At that rate, you can imagine how much longer the problem will be with us."

The number of bombs still to be found is staggering. British, American, and Russian bombing raids dumped upward of 2.7 million tons of bombs on Germany during the war, each weighing anywhere from 100 to 4,000 pounds (45 to 1,814 kilos). Spyra estimates between 7 and 15 percent of those were duds, bombs that hit the ground but failed to explode. For decades, they've remained live, waiting quietly for an errant backhoe or bulldozer to set them off.
That is insane. Could you imagine being killed by a bomb from World War II? I wonder if the death would technically qualify as a war casualty...
As an aside, the Pentagon has created a database of every bomb they've dropped since World War I.