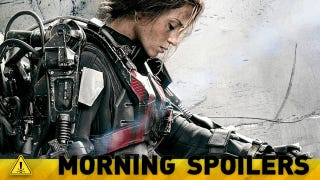 Novel author Veronica Roth reviews Divergent. There are new posters for Captain America 2, Transformers 4 and How to Train Your Dragon 2. Jaime Lannister has a new attitude in Game of Thrones season four. Agents of SHIELD may introduce Coulson's cellist. And Manu Bennett talks Deathstroke's revenge plan. Spoilers now!
Edge of Tomorrow
Total Film saw about 20 minutes of this film, and they have a description of the footage they saw. Here's some of the salient parts:
The footage opened on Cruise as he wakes up in the middle of a military base. Bill Paxton's Master Sergeant Farell approaches, and reveals that Cruise is being processed with the other new recruits ahead of a big battle tomorrow.

Cruise explains he's a PR man, not a soldier, and THAT there's been some kind of mistake. He asks for a phone call, and Farell pulls a switch-a-roo, revealing that Cruise is a deserter, and he's going to be forced to fight the next day.

. . . After a rousing speech from Paxton - "Remember, there is no courage without fear!" - Cruise has just enough time to ask one of his fellow soldiers how to take the safety off his gun, before a sudden explosion rips through the craft and bodies start to drop.

... After a spot of battlefield fun - including a very dark gag drawn from a falling spaceship - we're introduced to Emily Blunt as she punches and blasts an alien into submission. The aliens look a bit like Matrix squids covered in ultra-violet lights, and were probably the only minor disappointment in the footage.

... Cruise joins his group, who are quickly torn up by an attacking squid. He manages to switch on his gun, blasts one of the aliens, before working out how to use a rocket launcher, and exploding another. Unfortunately, that creature's weird acidy blood splashes Cruise's face, and kills him in a gross melty way

He wakes up back on the base, where we first found him, and the movie's Groundhog Day concept is revealed. He relives the processing day, the battle sequence, with each time trying to change events.

... We cut to Cruise seeking Blunt out, who, after a minor confrontation (it turns out she doesn't remember him) is convinced of Cage's time-loop situation, and tells him "What happened to you, happened to me, I had it and I lost it."

We then go into an impossibly cool training sequence, as Blunt trains Cruise to be the ultimate fighter, swinging a massive sword about and generally being amazing. Then, when Cruise f*cks up, falls down and complains of a broken back, she wearily pulls out a gun and shoots him in the head so they can start all over again.
More at the link. [Total Film]
---
Godzilla
The creature that appeared briefly in the trailer is apparently called "Muto," and it's an insectoid flying monster that lays eggs. Whether that's a codename for something we already know, or a brand new kaiju, remains to be determined. There is, however, a much closer look at Muto in the upcoming Godzilla Destruction Toy Set. Check out more photos here. [Dread Central]