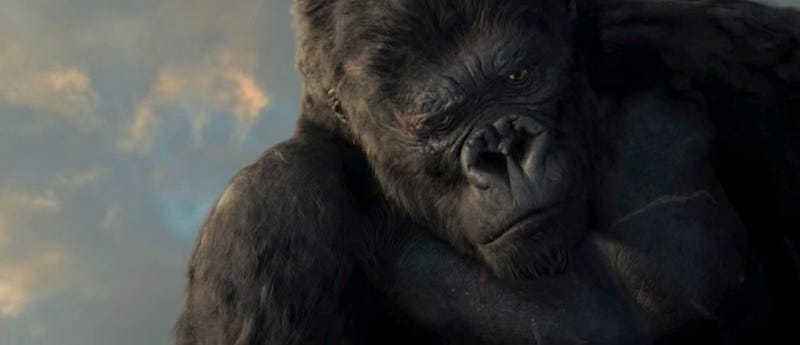 Kong: Skull Island is out March 10, the latest showcase for one of cinema's oldest and most reliable icons. Everyone knows about the 1933 original film, and the 2005 remake isn't too distant of a memory. But what else has Hollywood's hairiest superstar spent the last 84 years doing? We take a look back.
A King Is Born
King Kong first thrilled audiences in 1933, the big-screen culmination of a long-held dream by Merian C. Cooper—heroic military pilot, world-traveling journalist, and ambitious Hollywood player. Cooper had been fascinated by the idea of a giant gorilla since his early years growing up in Jacksonville, Florida, and inspiration struck one day while he was on hiatus from his movie career, working for Pan American Airways in New York City. Why not combine that giant gorilla with the city's most iconic skyscraper, and throw in some airplanes for good measure?
In Cooper's film, the huge ape—brought to life by Willis O'Brien's remarkable stop-motion effects—dwells on the mysterious Skull Island, somewhere near Indonesia, where dinosaurs and giant insects also roam. He's pursued by filmmaker Carl Denham (Robert Armstrong), who was based on Cooper, and falls for Ann Darrow (Fay Wray), the comely blonde who eventually accompanies him up the Empire State Building.
Though Kong dies at the end (the film's most famous line, of course: "It was Beauty, killed the Beast"), audiences went nuts over the film, and most movie critics did too. A contemporaneous New York Times writer, reporting in after a sold-out show at Radio City Music Hall, observed that "this picture was received by many a giggle to cover up fright." Kong was an overnight superstar.
Since Hollywood has always known the importance of cashing in on one's hot property, an insta-sequel followed: 1933's Son of Kong, helmed by Cooper's King Kong co-director Ernest B. Schoedsack. In Son of Kong, Denham (Armstrong again) returns to Skull Island on a treasure hunt and meets "Little Kong"—a smaller, much jollier, ultimately way less compelling version of his father. Box office success did not repeat.
But the King's lasting impact couldn't be denied. The character inspired at least two Japanese silent films in the years immediately following, a 1933 comedy (in which a stage performer in an ape costume is mistaken for the real thing) and a 1938 drama (featuring a pet ape played by an actor in a costume). Both films are now lost, but King Kong would return to Japan—and to America. Many, many times.
Pretenders to the Crown
Schoedsack and Cooper teamed up for 1949's Mighty Joe Young, another giant ape tale (with special effects by O'Brien and a young Ray Harryhausen) that starred Armstrong as a man who thinks gorillas should perform in nightclubs. (It was remade in 1998.) But though Mighty Joe was certainly influenced by King Kong... he wasn't King Kong. And neither was the beast in 1961's Konga, a British monster movie that blatantly rips off its biggest influence while also being kinda charmingly cheesy in its own right.
In 1976, another British monster movie riffed on Kong—this time with a deliberate comedic angle, not to mention a complete gender-swap of all the roles from the original.
It's... certainly something.