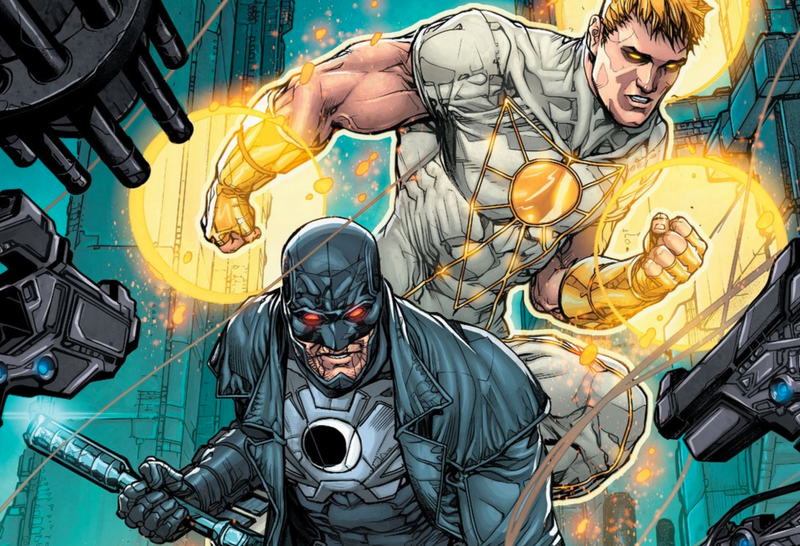 In Midnighter and Apollo #1, the ultra-strategizing martial artist and his solar-powered juggernaut boyfriend have friends over for dinner. When their guests make fun of Midnighter for actually showing emotions, he reminds them that he can end their lives in seconds. He's only joking... this time.

The new Midnighter and Apollo miniseries kicked off last week, picking up a little while after the end of the recent solo Midnighter series. Written by Steve Orlando with art by Fernando Blanco, Romulo, Fajardo, Jr and Josh Reed, issue #1 reunites the Warren Ellis-created Wildstorm characters who are analogues for Batman and Superman, showing them fighting evil and being tender with each other.
When I spoke with Orlando about his ongoing Supergirl title a while back, he was gracious enough to talk about Midnighter and Apollo, too. Our talk about the World's Finest Couple is below.
---
io9: I loved the last volume of Midnighter. If I can be totally blunt, I was mad at myself for not being able to write an appreciation before that series went away. So, I'm sorry about that. 

Steve Orlando: Thank you!
One of the things I love about Midnighter so much is that the stereotypical moments with gay superheroes—"You're gay! And we're going to give you grief or hassle you!"—never happens. The book presented Midnighter as this amazingly well-adjusted character who just happens to have a fight computer in his brain and loves to break the bad guys' bones. Can you tell me where that came from? He didn't seem like a sadist, which is kind of the way the character was interpreted before.