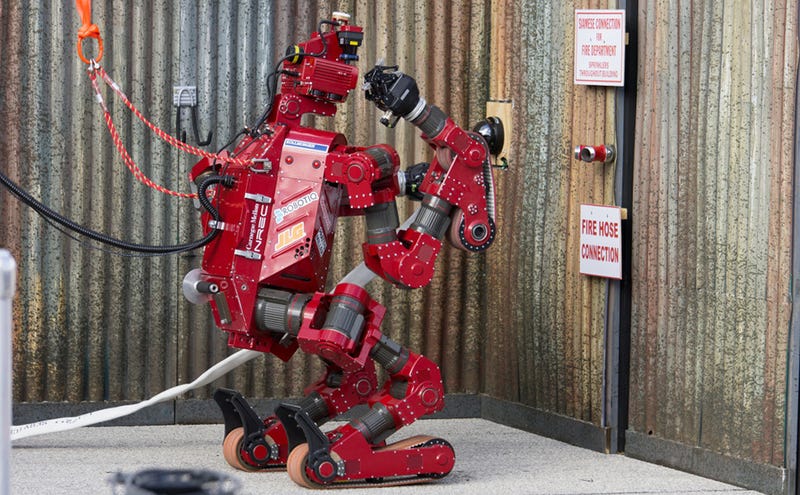 This past weekend, eight robots distinguished themselves from the rest at the DARPA Robotics Challenge, earning them a place at the 2014 Grand Challenge. Here's what you need to know about these great eight.
DARPA launched the challenge as a way to encourage the development of robots that can work with people as they respond to both natural and human-made disasters. The competition consists of both robot systems (Class A) and software teams (Class B and C) — and it's designed to be challenging.
When the competition first started in June, there were 100 robots. The recently concluded competition, held at a racetrack complex near Miami, featured 16 teams, of which eight qualified for the finals. The winning robot, which will be decided at the end of 2014, will earn a $2 million award.
Here are the top eight robots:
Team SCHAFT, Robot S‐One, lead organization: SCHAFT Inc. (27 points)
The SCHAFT robot (or S-One) is made by SCHAFT of Japan — now one of Google's primary robotics research labs. During the competition, this bot won four out of eight tasks, including terrain, ladder, debris, and hose. It stands at a compact 4'11" (1.48 meters), weighs 209 pounds (95 kilograms), is gangly limbed, 2-legged, and is notable for its use of a capacitor to drive high-voltage liquid cooled motors rather than a battery and normal servos, allowing for stronger and faster muscles. As the overall winner, S-One was particularly strong when it came to tasks requiring dexterity and mobility.
Team IHMC Robotics, Robot Atlas‐Ian, lead organization: Florida Institute for Human & Machine Cognition (20 points)
Finishing in second place was the the Florida Institute for Human and Machine Cognition's Atlas, or Atlas-Ian. The IHMC is a Track B team that's focusing its efforts on software development, namely walking and manipulation code. Built and supplied by Boston Dynamics, the six-foot robot excelled at navigating a 25-yard course consisting of three piles of cinder blocks. It took the 330-pound robot about 30 minutes to do it — but it was the best of the competition.