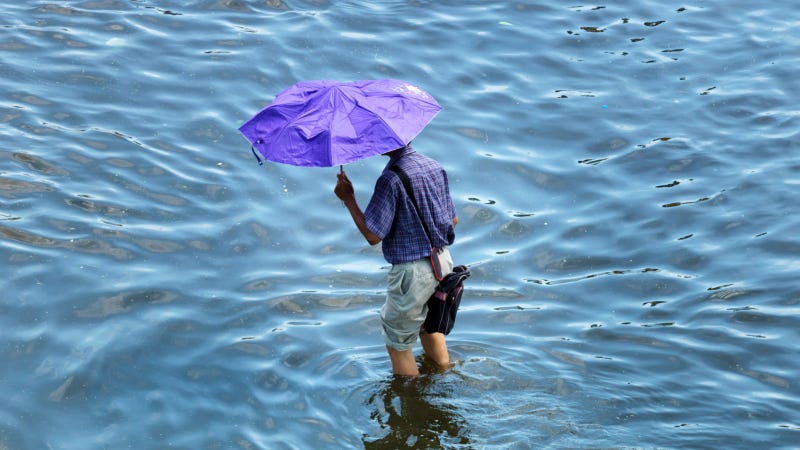 The risk of flood is on the rise, and experts agree: society isn't ready for what lies ahead.
Yesterday, the Federal Emergency Management Agency (FEMA) published a landmark investigation on the connections between climate change, population growth and sea-level rise. The study concludes that the amount of the U.S. at risk for floods could increase 45% by 2100, doubling the number of flood-prone properties covered by the National Flood Insurance program and exacting a strenuous toll on the country's Flood Insurance Program.
The 257-page report is the first of its kind for FEMA, and is the culmination of close to five years of in-depth investigation. Joint reportage today from Mother Jones and The Climate Desk claims that the study was "finally released" yesterday, following multiple inquiries from the news organizations. Kate Sheppard and James West provide a tidy summary of study's key findings:
Like previous government reports, it anticipates that sea levels will rise an average of four feet by the end of the century. But this is what's new: The portion of the US at risk for flooding, including coastal regions and areas along rivers, will grow between 40 and 45 percent by the end of the century. That shift will hammer the flood insurance program. Premiums paid into the program totaled $3.2 billion in 2009, but that figure could grow to $5.4 billion by 2040 and up to $11.2 billion by the year 2100.
The report, which you can read in its entirety here, attributes 70% of the increased risk to climate change and 30% to population growth. Between these two driving factors, the U.S.'s National Flood Insurance Program (NFIP) could be forced to expand its coverage to as many as 11.2 million properties by 2100. That's twice the number it insures today. These projections would put the NFIP, already neck-deep in debt following this past decade's string of devastating storms, in an almost irremediable position. In the absence of serious upheaval to existing policies, the report forecasts NFIP's recovery effort would fall to tax payers and insurance holders – the latter of which, FEMA's study concludes, could expect a 70% spike in their coverage rates.
The NFIP was established to serve as a liferaft to its policyholders. Not the other way around.
FEMA's report is the latest in a slew of warning signs that the U.S. and the rest of the world are struggling to prepare for a watery future, despite persistent calls to action from a near-unanimous scientific community. (Which makes recent evidence that scientists are, in fact, underestimating sea-level rise that much more unsettling.) If extreme weather is to become the new normal, it is imperative that we be prepared to cope with its repercussions.