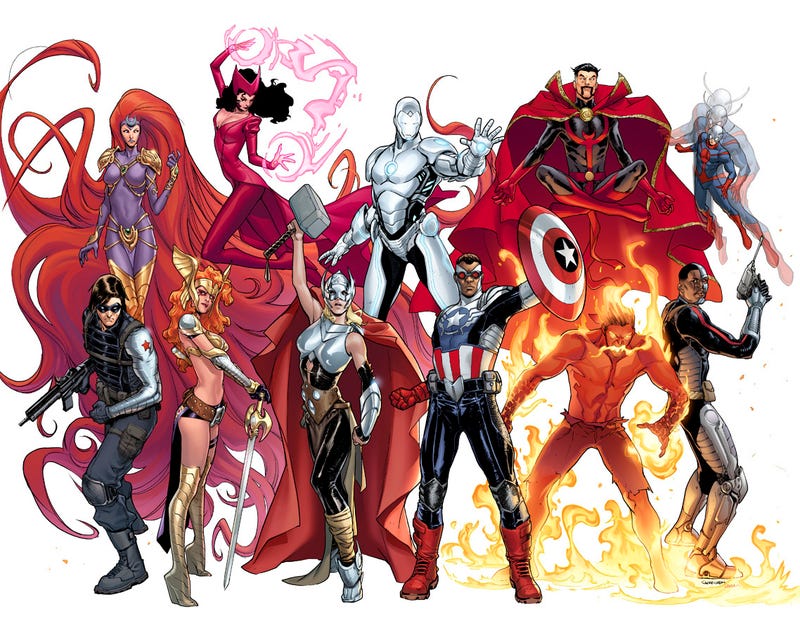 CORRECTION: Sorry, folks. This is apparently just a promo image of Marvel characters who will "play a prominent role" in the comics moving forwards as part of a publishing initiative called "Avengers Now."
The confusion came from the fact that 9/10th of all Marvel comics are currently titled So-And-So Now, so it appeared for all the world that Marvel was discussing a specific Avengers comic, and thus this was the team roster. These guys may all end up on one Avengers team or another, but at the moment we don't know. My apologies for the error.
---
Orignal Article: Marvel has debuted the newest comics roster for Earth's Mightiest Heroes! There are plenty of surprises in there, but perhaps none more surprising — and welcome — than the fact that only four of the group's 11 members are white men.
As you can see, the line up consists of: (top row, left-to-right) Medusa the Inhuman; Scarlet Witch; Iron Man (in new armor, natch); Doctor Strange; Ant-Man; (and bottom row, left-to-right) the Winter Soldier; former Spawn character Angela; the new female Thor; ex-Falcon Sam Wilson as the even newer Captain America; Inferno, a recently introduced Inhuman; and Deathlok, seen looking a hell of a lot more like his Agents of SHIELD TV incarnation than usual.