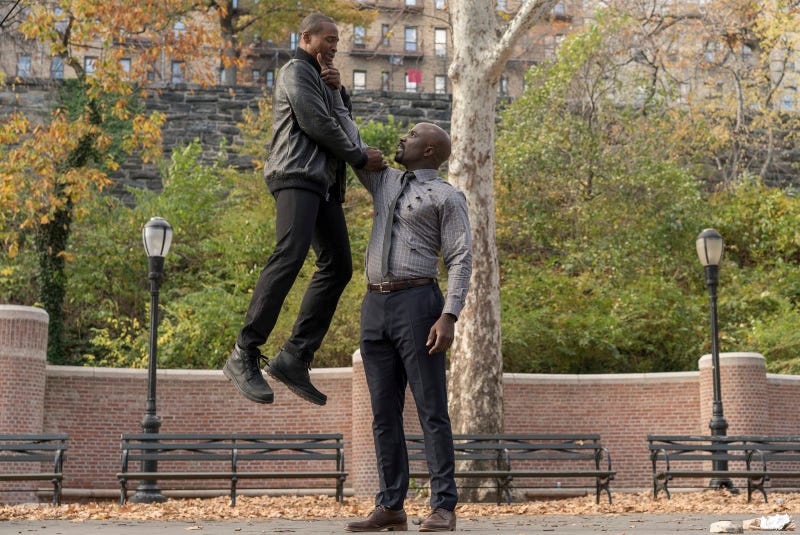 After watching the first seven episodes of the Luke Cage Netflix series, I can confidently say that its lead character doesn't always feel like the Power Man who's shown up in decades of Marvel comics. But, as this spoiler-free review will show, I like him anyway. This Luke Cage is still an everyman superhero that works as a conduit to a multiplicity of black experiences.
The glimpses of Luke Cage that viewers saw in Jessica Jones last year showed a man with a haunted past. In his own series, which debuts on Netflix on September 30, we see Luke weigh the cost of what it means to become someone who fights for people on the fringes. He's keeping his head down when the show starts, working off the books in Harlem. Despite the main character's attempts at staying off the radar, the show isn't coy with its premise or secrets. Early on, viewers see that Luke's special abilities are going to make him a larger-than-life figure and the questions of what he'll do in the spotlight and why he needs to hide at all are what drives the show's narrative.
Luke Cage takes the raw ore of superhero source material and works it into an alloy meant to stand strong against the pressure of fickle high expectations. It feels like a show that has to put a whole culture on its back. Several of them, actually—it's got to withstand the withering gaze of superhero comics fans who likely know the title character's history backwards and forwards, along with the attention of hip-hop heads and curious newcomers.